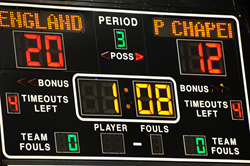 GetUWired's "Beginners' Guide to Infusionsoft: Lead Scoring" helps Infusionsoft users navigate their software's lead-scoring process.
(PRWEB) March 12, 2014
Internet marketing firm GetUWired has just released its second installment of the Beginners' Guide to Infusionsoft series, "Beginner's Guide to Infusionsoft: Lead Scoring."
This series is intended to help Infusionsoft users get the valuable information they need to maximize their use of Infusionsoft easily, right from the comfort of their desks.
What is Infusionsoft lead scoring?
Lead scoring is one of Infusionsoft's most useful features. Infusionsoft lead scoring allows users to track their leads' activities and assign values to each activity. By tallying up the values, Infusionsoft can quickly and easily determine which leads are hot now, leading to more business and greater profits for the business owner!
Where to set up Infusionsoft lead scoring
To set up lead scoring criteria, go to the CRM menu – Settings – Scores. In this menu, users can create an infinite number of criteria to use for scoring.
Lead-scoring criteria
Scoring can be tag based or activity based. Tag-based scoring is basically limitless. Users can create tags for any criteria, activity and information that they deem significant.
Activity-based scoring is limited to four categories: email unsubscribe, web form submission, email open, and link click.
Expiration dates are an important part of the lead-scoring process. Adding an expiration date (which is optional), allows users to more accurately determine if a lead is hot.
With each lead-scoring criteria, users can assign positive or negative points. Users will also set the parameters as to what total point value will equal five flames, which will indicate that the lead is hot. Infusionsoft automatically tallies each lead's points and assigns the appropriate number of flames.
How to use lead scoring to make more sales
To see which leads are hot, go into the CRM menu – Contacts Search -- and search by number of flames.
To see which leads are dead and remove them from the system, search for contacts with zero leads. To see which leads are hot, search for contacts with five flames. Users can also set up campaigns to send an email notifying the administrator when a lead reaches five flames.
Once you find out which leads are hot, the business owner can personally reach out to them or find a new way to market to them. Finding qualified leads who are ready to invest has never been easier!
Learn even more about lead scoring with GetUWired.
To learn more about Infusionsoft lead scoring or any of Infusionsoft's other features, visit http://www.getuwired.us/infusionsoft or call 877-236-9094. GetUWired provides Infusionsoft training and support and much more.