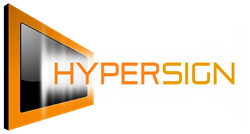 ...everything was laid out there right in front of me.
Greenville, Spartanburg (PRWEB) March 27, 2014
Hypersign, the award winning digital signage software, has done the impossible. With a ground-up total redesign with users in mind, Hypersign has made the easiest, most efficient software in the market even easier.
Hypersign, already known for its ease of use, has simplified nearly every aspect of the software. It opens up with a clean and accessible dashboard, revealing four different managing modules. From there, Hypersign has a simplified uploading center and a jazzed up Content Manager complete with an effortless drag-and-drop system.
Hypersign 2.0 is a re-modeling of the sleekest kind. While not only making classic features easier, faster, and most importantly better, Hypersign also takes the next step by giving new features called Drop Zone Apps. Applications individually tailored for specific tasks and needs.
Gunner Willis, Social Media Manager, says, "Not being very savvy with technology in the first place, I can't tell you enough how crazy 3.0 really is. There was no 'How do I?' or 'Where do I go?' questions being asked, everything was laid out there right in front of me."
Hypersign Software is an award-winning software product development company focusing on building products that improves the lives of people. The Hypersign product is known for its incredibly intuitive interface making it the perfect digital signage solution for education (K12 and higher Ed) and healthcare.