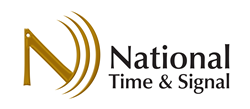 It is a daily recognized benefit that we have synchronized time throughout the Hague buildings and conference centre.
Wixom, Michigan (PRWEB) March 20, 2014
The North Atlantic Treaty Organization (NATO) Communication and Information Agency, requiring a time display system that met their high standard of precise synchronized time for their facility at the Hague in the Netherlands, chose Michigan based National Time & Signal's (NATSCO) revolutionary TimeWise™ WiFi clock systems.
After evaluating several supplier choices, NATO Communication and Information Agency selected the TimeWise™ WiFi clock system. The clocks were shipped from National Time & Signal's Wixom, Michigan facility to the Netherlands and were installed without issue.
Commenting on the purchase, Simon Christoffels, Deputy Head Building and Facilities - The Hague Site NATO Communications and Information Agency said: "We are completely satisfied with the clocks delivered. It is a daily recognized benefit that we have synchronized time throughout the buildings and conference centre. We have installed them in all locations where time indication is an Agency requirement. Installation was very easy and was done much quicker than expected."
"This purchase, further demonstrates the value of synchronized time throughout single facilities and multiple buildings and campuses," said [Richard Fulton, President & CEO, National Time & Signal, "particularly as expanding globalization of public and private sector interests increase demand for synchronized time and more accurate time delivery systems and support services. We are honored to be of help to such a prestigious international organization such as NATO and The Hague and are looking forward to synchronizing more clocks around the world."
About National Time & Signal:
National Time & Signal invented the first synchronized clock system 137 years ago. For his invention, Richard Fulton's grandfather's business partner, August Hahl, earned the distinguished John Scott Award, given to those "who contributed in some outstanding way to promote the comfort, welfare and happiness of mankind." Other recipients include Madame Curie, the Wright Brothers, Thomas Edison and Jonas Salk.
National Time & Signal, Headquartered in Wixom, Michigan is the leading provider of precise, synchronized time display systems throughout thousands of facilities and campuses for public agencies and private sector companies around the world. The Company offers a full range of master time systems, outdoor clocks, and life safety systems.
For additional information on the National Time & Signal's synchronized time systems, client testimonials, or product specification sheets, visit the National Time & Signal at http://www.NationalTimeAndSignal.com.
Contact:
Craig Bradford
Business Development Director, National Time & Signal
28045 Oakland Oaks Ct.
Wixom, MI 48393-3342
Phone: 248-380-6264
info(at)NationalTimeAndSignal(dot)com