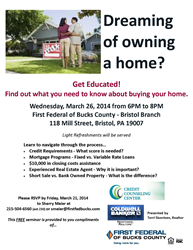 Bristol, Pa. (PRWEB) March 12, 2014
***CALENDAR ADVISORY***
First Federal of Bucks County to Co-Sponsor Homebuyer Seminar
Date: March 26, 2014
Time: 6 p.m. – 8 p.m.
Location: First Federal of Bucks County, Bristol Branch, 118 Mill Street, Bristol, Pa. 19007
Details: Prospective homebuyers can get help from the pros at a free seminar that will take place at the Bristol branch office of First Federal of Bucks County. The educational event will be presented by Terri Sivertsen of Coldwell Banker Hearthside, Realtors®, and is open to the public. Attendees will learn to navigate the process of credit requirements, various mortgage programs, the differences between short sale and bank-owned properties, and other topics to prepare to buy a new home. Light refreshments will be served. The program is co-sponsored by First Federal of Bucks County, Credit Counseling Center and Coldwell Banker.
For reservations, call or email Sherry Meier at 215-504-6560 (ext 230) or smeier(at)firstfedbucks(dot)com by Friday, March 21, 2014.
About First Federal of Bucks County – Founded in 1885, First Federal of Bucks County, with $702 million in assets, operates 11 offices throughout Bucks County. Because it is a Federally Chartered Mutual Savings Association, the bank is not publicly traded and is "owned" by the Association's customers. The mission of First Federal is to serve businesses and individuals in Bucks County and the surrounding counties – and to be an integral part of the community. For additional information, visit us at http://www.firstfedbucks.com.
Contact: Sherry Meier at smeier(at)firstfedbucks(dot)com or 215-504-6560 (ext 230)