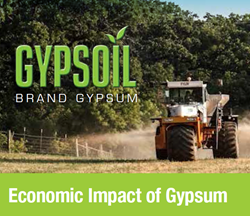 ...there were more than 20 soil improvement characteristics that many gypsum users rated as 'important'...
Chicago, IL (PRWEB) March 13, 2014
A rigorous new study conducted by two highly respected agricultural economists brings to light the top reasons that crop growers apply gypsum to cropland. The study cites increased yields, valuable sulfur fertility and soil quality improvements as key benefits of gypsum use, contributing to positive financial returns.
"On average, gypsum users received $1.68 in return for every dollar invested in gypsum. In addition, gypsum significantly improved the productivity of their soil," said Marvin Batte, PhD, professor emeritus of The Ohio State University. "Many gypsum users, especially longer-term users, experienced even higher returns. Plus, there were significant environmental benefits as well."
Batte and a colleague, D. Lynn Forster, PhD, also professor emeritus of The Ohio State University, conducted the study. The research was sponsored by the GYPSOIL Division of Beneficial Reuse Management in collaboration with No-Till Farmer magazine.
Big Returns for Yield, Improved Soil Quality
"Returns were highest for alfalfa where users experienced dramatic increases in yield," said Batte. "In alfalfa, returns per dollar of gypsum cost were often 5:1 or higher. In corn, 2:1 or higher. And there were also excellent returns in other crops, such as soybeans and wheat."
While increased yield and improved fertility were among the easiest benefits to measure, improved soil quality was viewed by many – especially long-time gypsum users – as the most important benefit, according to study authors. Gypsum improves soil tilth and water infiltration, especially in soils with higher levels of clay or silt.
The most valuable soil improvement benefits, rated by a majority of users surveyed, included such items as improved plant rooting, improved seedling emergence, increased soil water retention, reduced runoff and improved absorption of nutrients. Enhanced soil biological activity was also noted.
"In all, there were more than 20 soil improvement characteristics that many gypsum users rated as 'important,'" Batte said.
Long-term Users Apply More Gypsum
The researchers found that gypsum's economic returns and other benefits increased over time. Farmers who adopted the practice of applying gypsum prior to 2010, for example, gave higher scores for all benefits tested than did newer users, according to Batte and Forster. Long-term growers applied gypsum to 45.7 percent of their cropland compared with newer users who applied it to 33.8 percent on average.
The research showed that gypsum provided environmental and societal benefits, too. Soil-applied gypsum may serve as a means to stabilize phosphorus in the soil and reduce downstream effects of phosphorus movement, a nutrient blamed for excessive plant growth in streams, lakes and coastal waters.
"Realizing that gypsum easily pays for itself in yield increases alone will give growers confidence in adopting this practice," says Ron Chamberlain, lead agronomist for GYPSOIL/Beneficial Reuse Management. "But yield is only part of the story. Many operators also experience improvements in fertilizer efficiency, less nutrient loss and improved drought tolerance due to improved moisture retention. Those are benefits to their bottom line and to the environment."
Growers have used gypsum to some extent since colonial times. Recent use has grown dramatically due to the availability of larger quantities of low-cost gypsum. While gypsum is a naturally occurring mineral that is mined, it is also produced as a by-product in several industrial processes, as well as in the scrubbing of sulfur from coal-fired power plants.
GYPSOIL is a division and trade name of Beneficial Reuse Management, LLC. Its mission is to help crop growers improve their soils and increase productivity while conserving natural resources and protecting the environment. GYPSOIL brand gypsum is now available through distributors in 21 States in the Midwest, Plains and South. GYPSOIL manages gypsum distribution and marketing programs for a wide range of supply partners including utilities and manufacturing companies, diverting valuable co-products from landfill disposal to productive use as agricultural inputs.
For more information about gypsum, a bulletin outlining this study and other related research, visit GYPSOIL.com or call 1-866-GYPSOIL (497-7645).
GYPSOIL Division of Beneficial Reuse Management LLC,
1-866-GYPSOIL (497-7645), GYPSOIL.com
372 West Ontario Street, Suite 501, Chicago, IL 60654
Follow us on Twitter @gypsoil. Like us at Facebook.com/pages/gypsoil.