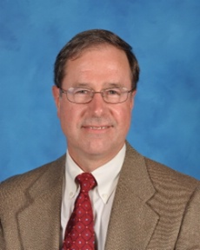 (PRWEB) March 14, 2014
The National Business Officers Association (NBOA) named Bill Hodgetts, assistant head of school for finance and operations at Garrison Forest School (GFS), the 2014 recipient of the Ken White Distinguished Business Officer award for his accomplishments. The Ken White award is NBOA's highest honor and is given to exceptionally active and inspiring individuals who have dedicated their careers to the support of others in the field. A founding member of NBOA, he currently serves on the Board of Directors and as chair of the Emerging Issues Committee.
Since he started at GFS in 1989, Hodgetts has worked tirelessly to ensure the financial health of the school. Among many other accomplishments over the last 25 years, Hodgetts has directed the operating budget into consistent balanced budgets or surpluses when it had previously been at deficits; managed $36 million in construction and renovation to more than double campus square footage; negotiated significant insurance savings and improvements; and organized groundbreaking programs including a profitable after-school facilities rental program and a school-wide technology program that is far ahead of competitor schools.
During the nomination process, Hodgetts' NBOA and GFS colleagues described him as, "a quiet giant who has worked tirelessly to support others in the profession," and point to his, "willingness to go into a school and do a comprehensive assessment of the school's operations to ensure the school's financial stability and health."
Head of Garrison Forest School Peter O'Neill agrees with this description of Hodgetts. "Garrison Forest is blessed to have one of the finest business officers in the country in Bill Hodgetts," O'Neill says. "Those of us who have worked with Bill would certainly attest to why he would be worthy of this national recognition."
Hodgetts received his award at NBOA's annual meeting in late February in Orlando, Fl. "We are in the business of relationships," he said during his acceptance speech. "We have a strategic part in the development of one of the most critical relationship in someone's life: that between a teacher and a student. And it's the quality of that relationship, that connection, that defines "value" and one that should guide us in all we do. That's what we should focus on: to provide the context, the framework to maximize and continually improve that relationship."
Hodgetts holds an undergraduate degree from the State University of New York at Buffalo and a master's degree from the University of Chicago. Prior to joining Garrison Forest, Hodgetts worked in real estate development, construction and accounting. In addition to his NBOA service, he is active in a number of other local, state and national organizations focusing on the business of independent education. He and his wife Dr. Barbara Cavanagh have three daughters who graduated from Garrison Forest: Catherine '98, Colleen '03, and Maura '05.