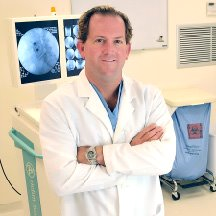 Most people will come away from it with a better understanding of what may intensify back pain, and what steps they can take to make healthier choices
Palm Beach Gardens, FL (PRWEB) March 13, 2014
With the New Year in full swing and Spring on its way, the staff at Orthopedic and Laser Spine Surgery have devised a list of the top ten best practices that can help you achieve your goal of staying healthy and keeping neck and back pain at bay. Although not every item on the list below may pertain to you, most people will come away from it with a better understanding of what may intensify back pain, and what steps they can take to make healthier choices.
10 goals you can set that will help improve your spine's health:
1. Stop smoking – Believe it or not, not only is smoking a leading cause of certain cancers and is bad for your cardiovascular system, it is also a major contributor to chronic neck and back pain. Smoking leads to vascular damage to the vertebral discs and joints in the spine. Poor blood flow means weakened bones.
2. Exercise more often – One of the greatest ways to beat back pain is to exercise and build strength in the core muscles that help support your back. The other great advantage to exercise is that endorphins are released, reducing the way your brain perceives pain and triggering a positive feeling.
3. Eat more nutritious – Not only does nutrition go a long way with the overall health of your body, it also helps to prevent many conditions that affect the back as well as promote quicker healing from injuries. Vitamin A, B12, C, D, K, Iron, Magnesium, and Calcium all play a major role in spinal health.
4. Lose weight – There are two factors of being overweight that play a role in spinal health. The heavier your body is, the more weight your spine and its surrounding structures need to bear. A large stomach could pull your spine out of alignment leading to conditions such as Kyphosis, Spondylolisthesis, and other joint related injuries.
5. Practice safe lifting – Lower back injuries are often caused by repetitive improper lifting of objects. Follow these simple steps to take strain away from your lower back. Plan out how you are going to lift, keep the load close to your waist while adopting a stable position. Don't bend at the back and use your leg power to lift the object, if you feel your back flexing you are not using your leg muscles. Be aware of your surroundings and keep your head up to avoid collisions. Make sure that you movements are smooth and not jerky, this will help keep the pressure on your body even.
6. Take breaks – When you are at work, take your breaks. If you job requires that you are standing for extended periods of time, sit down on your break and relax, while if you are required to sit at a computer station all day, stand up and take a stroll to get your blood flowing again.
7. Don't overexert yourself – Overexerting your back muscles can lead to strains, sprains, and even worse conditions that affect the back. Take it easy and know to take a rest when you are feeling tired. It may take an extra fifteen minutes to get something finished, but if you injure yourself instead of taking a rest, you will be feeling it for much longer.
8. Relieve some stress – Although it is not a common fact, stress can lead to pain, especially in the lower back. When you are under stress your muscles tend to tighten up and cause pain. Read a good book, practice some meditation, or find other ways to relieve that stress. Not only is it a good way to avoid back pain, it is also a great feeling when your mind is at peace and tranquil.
9. Stretch those muscles - Stretching periodically throughout the day can help relax tense muscles, get your blood flowing, as well as provide a calming effect on most people. If you are not sure what stretches your body can handle, speak with your physician or a medically trained professional.
10. Practice office ergonomics - Although this step may not be of interest to everyone, if you work in an office setting, follow proper ergonomics. This includes proper posture while sitting at your desk, using ergonomic furniture, and having your monitor adjusted to the proper height to avoid neck strain. There is great progress in office furniture such as desks that adjust easily to standing or sitting positions and chairs that promote proper posture. Take the time to do research on innovative ways to promote good back health.