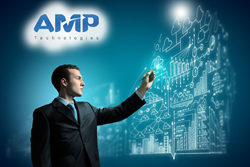 Co-founder by Neel Naicker, the companies CEO who believes "Our mission is to provide revolutionary capabilities and experience to our customers through innovation that is unrivalled in the Real Estate Industry."
Silicon Valley (PRWEB) March 18, 2014
AMP Technologies does not waste time getting in front of the largest firms in the Commercial Real Estate Industry. Bringing never seen technology directly to the most recognized leaders in the space backed by their team's unmatched talent, AMP is leading the change with their advanced solutions and best-of -breed technology.
AMP is constantly delivering updates along with their innovative new releases; everyone who uses their solutions is able to spend more time on strategy and less on gathering and interpreting disparate data.
Co-founded by Neel Naicker, the company's CEO who believes, "Our mission is to provide revolutionary capabilities and experience to our customers through innovation that is unrivaled in the Real Estate Industry." These words are what the AMP team lives by; they are proud to be the future of Real Estate technology.
UNMATCHED TALENT
To play in this space you need the talent to back you up; from accounting representatives with multiple degrees to Due Diligence experts able to spot red flags across the globe, AMP's super teams make all the difference. Their latest financial adventures include AR/AP/Cash Management for over 1000 properties as well as System Implementation and Data Migration. Clients include top companies in the US and internationally from Mexico to Europe; AMP is dedicated and growing at high speeds.
STRONG PARTNERSHIPS
AMP is reaching beyond its walls to create strategic alliances with dynamic companies who only work with the best technology in the industry. Recently AMP presented at an online session with respected industry leader REdirect on Business Intelligence in Real Estate - highlighting how to provide efficiencies in your organization using Business Intelligence. Along with partnerships AMP also will be participating in some of the best events in the industry such as REITWise, IMN CFO Forums and many others.
AMP Technologies' scalable, world-class services are backed by its world-class technology and talent; perfect for forward-thinking professionals who need cutting-edge strategies to stay ahead of the curve.
About AMP Technologies
Headquartered in Mountain View, California, AMP Technologies provides a suite of products and services for commercial real estate asset management. The AMP Technologies Platform is a powerful, yet highly intuitive, platform to monitor and manage individual properties and large portfolios. Its products are built on best-of-breed cloud technology and are designed for the modern enterprise to provide sophisticated business intelligence, collaboration and management tools. With a comprehensive yet highly intuitive platform for monitoring and managing individual properties to entire portfolios, AMP provides the key tools needed for every level of management for effective analysis and decision making.