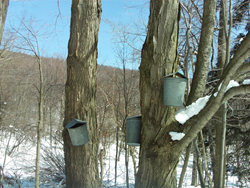 Canandaigua, NY (PRWEB) March 13, 2014
March may mean college basketball in most of the United States, but in the Finger Lakes Region of New York State, March means maple-sugaring season. There are a variety of ways that visitors can get out and about this month enjoying all the wonderful maple products in the second largest maple producing state.
NYS Maple Weekends:
Wohlschlegel's Naples Maple Farm
8064 Coates Road
Naples, NY 14512
(585) 775-7770
http://www.fingerlakesbulkmaplesyrup.com
Visitors will love the breathtaking view from Wohlschlegel's Naples Maple farm. Breathe the aroma while enjoying a personal tour in the modern sugarhouse. Learn how sap is transformed into maple syrup with energy efficient technology. Activities include a woods walk (you may need to bring your snowshoes!) through the sugarbush. Complimentary coffee & cornbread, free samples of maple syrup and our specialty item, maple cream will be available. Visitors may purchase jugs and bottles of maple syrup as well as other maple products. There will also be a pancake breakfast 8am- 1pm each day.
Dates: March 22, 23, 29 and 30
36th Annual Maple Sugaring at Cumming Nature Center
6472 Gulick Road
Naples, NY 14512
(585)374-6160
http://www.rmsc.org/cummingnaturecenter
Maple Sugaring explores the science and lore of maple syrup production with volunteer guides along the Pioneer Trail. Visitors will learn how a tree makes sap and discover the different processing techniques of Native Americans, early pioneers and today's modern sugar bush managers. Highlights include a 100 percent pure maple syrup tasting in the sugarhouse and a pancake meal in the visitors center.
Dates: March 22, 23, 29 and 30
Schoff's Sugar Shack
1064 Willis Hill Road
Victor, NY 14564
(585) 924-3769
http://www.schoffssugarshack.com
Schoff's produces about 200 gallons of syrup a year. The team will be boiling on our wood-fired evaporator. Syrup, candy and gift bottles will be available along with free samples of various syrup grades. Reverse osmosis and bottling demonstrations will be conducted when sap and syrup are available.
Dates: March 22, 23, 29 and 30
Day Brothers Dairy & Maple Farm
2292 County Road 6
Phelps, NY 14532
(315) 789-0883
The sap house will be open and the wood-fired evaporator will be boiling. Visitors can enjoy samples of maple syrup and cream. Activities include wagon rides into the woods to show the tubing and tank collection system as well as displays of tools and equipment.
Dates: March 22, 23 and 30
Maple Madness at Simply Crepes
Simply Crepes
101 South Main Street
Canandaigua, NY 14424
(585) 394-9090
http://www.simplycrepes.com
To celebrate maple sugaring season and March Madness, Simply Crepes will be offering all you can eat traditional crepe rolls between March 21 - 31, 2014.
Growing up, Simply Crepes owner Pierre Heroux's version of a crepe was a thin layer of batter sizzling on the hot pan to form a delectable vehicle to carry brown sugar, maple syrup and a dollop of whipped cream. During Maple Madness, guests can enjoy as many of these crepes as they desire for $8.