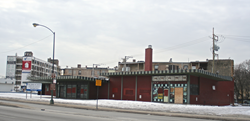 "These auctions provide rare opportunities for investors to acquire exceptional real estate investment and development properties through competitive bidding," said Michael A. Fine
Chicago, Illinois (PRWEB) March 17, 2014
Fine & Company, LLC (http://fineandcompany.com), the nation's boutique real estate auction company, announced the auctions of highly desirable two investment properties for private sellers: a NN leased office building in Homewood, IL with $177,004 of annual net income and the landmark former Carson's Ribs location on Ridge Avenue in Chicago Il.
The auction date for the Homewood property is Tuesday, March 25th and the May 21st for the former Carson's Ribs redevelopment site in Andersonville.
Michael A. Fine, principal of Fine and Company, said: "Following the past few years where auction clients had shifted to primarily financial institutions, we are pleased to see that with the strengthening of the real estate development market, there is a trend for private investors once again to utilize the accelerated auction marketing process to sell quality real estate through our strategically designed programs. These auctions provide rare opportunities for investors to acquire exceptional real estate investment and development properties through competitive bidding. In the fourth quarter of 2013 and now in the first quarter of 2014 Fine and Company is representing all private sector sellers."
The Homewood NN leased office building is leased for the past twelve years to Schneider Electric, a worldwide publically traded company with a current net operating income of $177,004. The property will be sold subject to a Minimum Bid of only $750,000. The landmark former Carson's Ribs location is a half-acre site on Ridge Avenue just west of Clark Street in Andersonville and well suited for redevelopment for retail or mixed-use residential and retail development.
Mark Lambert, President of The Crown Group, managing partner for the ownership of the Schneider Electric property said, "Previously, we had this property listed conventionally, but decided that the time to sell is now so that we can redirect our resources toward other development opportunities on our radar screen.
Lambert added, "The auction allows us to set the terms of the sale and the date and plan for a sale on a time certain date in order to make commitments to other planned investments."
17475 Palmer Boulevard is located in the Palmer Lakes Business Park. The building is 18,632 square feet, primarily office. The tenant, Schneider Electric is responsible for virtually all of the annual costs of maintenance so that the landlord as minimal responsibilities. At the Minimum Bid of $750,000 an investor will acquire this investment at the equivalent of a 24% CAP Rate or $40.25 per square foot.
Other companies in the Palmer Lakes Business Park local area include: Mijack Products, Inc, the worlds largest producer of intermodal cranes for the railroad and port intermodal industry, Lanco Corporate Offices, CFT Chicago, a non-for-profit organization providing support to individuals with development disabilities, AB&D Custom Furniture Inc., and the Children's Hunger Fund.
"This auction offers a great opportunity for the astute investor seeking a property with an investment grade tenant, minimal landlord responsibilities, a desirable lease structure and future expansion potential." Mr. Fine said.
The property will be open for inspection at 1:00 p.m. on March 18th.
Former Carson's Ribs on Ridge Avenue Redevelopment Site
Also to be auctioned seven weeks later is the landmark Carson's Ribs former location on Ridge Avenue in Andersonville, one if the city's hottest neighborhoods. This high traffic redevelopment site is 22,000 square feet or just over half an acre and zoned B3-2 providing buildability for approximately 46,640 square feet of mixed-use development.
Recently on the market for $2.1 million the sellers have elected to use the auction process and have bidders bid their price in order to sell this final asset of their business partnership.
Fine said, "For developers or high profile retailers who wishing to secure a foothold in one of the most desirable areas of the city, this is a rare opportunity to today's market will determine though the auction process."
Michael Chioros speaking for the ownership said, "When Vranas & Chioros purchased the site of the iconic Carson's Ribs in 2005, we saw it as a irreplaceable location for future development in the Anderson - Edgewater Community. With the wind down of our business partnership we have decided it is time to sell this property rather than develop it ourselves. Now, with the planned new Peterson-Ridge Metra Station only a four minute walk from the site there are even more reasons pointing to this location for redevelopment."
The Ridge Avenue site is prime for retail or mixed-use development with over 38,000 vehicles per day traffic counts and being in the heart of Andersonville it also provides great population density, access to public transportation and proximity to the Edgewater and other north side communities.
Chioros added, "We selected the auction process because it is a systematic and sophisticated marketing approach to the sale of real estate not found in conventional brokerage. With an auction, we can set the terms of the sale, sell the property without long and unpredictable contingency periods and line up competing bids all on the same day."
Located at 5970 N. Ridge Avenue, Chicago, IL, the property will be available for inspection on April 15th, 29th, May 6th, & 13th at 11:00 am.
Mr. Fine noted: "Today, the auction industry offers a vast variety of service providers from the on-line mass market approach to hands-on property specific marketers. We provide the high touch approach; our clients utilize the auction process not out of distress but rather to cut through hurdles of setting a market price and waiting for buyers to make offers. We remove the price barrier, expose the property and provide a forum for buyers to bid competitively."
Detailed Bidder's Information Packet has been assembled for each of the properties, and contains detailed property specific information and the Terms of Sale.
Headquartered in Chicago with offices in New York, San Francisco, and Dallas, Fine and Company, LLC specializes in asset-specific auction marketing and is the most experienced real estate auction company in Chicago.
Please contact Fine & Company at (312) 278-0600 or info(at)fineandcompany.com for more information.