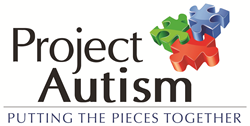 One-Stop-Shop for those seeking information relating to ASD
Houston,Texas (PRWEB) March 18, 2014
Project Autism is pleased to announce the launch of their new fully featured website at http://www.projectautism.org. It hopes to now serve as the leading resource for families affected by Autism Spectrum Disorder (ASD) in providing support, assistance, and education.
"After working for more than 13 years with children and families with special needs, I knew I wanted to create a nonprofit organization whose goal was to offer more resources and assistance to those whose lives were affected by autism spectrum disorder (ASD)", said Michael Conteh, Executive Director of Tangible Difference and the founder of Project Autism.
Project Autism intends to offer support by creating educational information and resources to direct families to all the help they need to manage their lifestyles with this disorder. The website was designed with the goal of being a "one-stop shop" for those seeking information relating to ASD.
While it was once considered a rare disorder, ASD is reported to affect 1 in 88 children and 1 in 54 boys, according to national statistics. More children will be diagnosed with autism this year than with AIDS, diabetes and cancer combined.
After months of scouring and researching the internet, speaking to businesses and providers and reaching out to special needs families- Project Autism has compiled a very extensive resource list for the Greater-Houston area. The list has been broken up into areas of town as well as by the type of resource.
Project Autism currently provides scholarships to families who cannot afford Speech, Occupational and/or Applied Behavioral Analysis Therapy on their own. As a result, they are actively accepting monetary donations. As a 501(c)(3) nonprofit organization, all donations are tax deductible.
The simplest way to help Project Autism is to spread the word by informing family, friends, neighbors and coworkers about the organization and its mission. They will rely on word of mouth advertising to draw families to their new website for support and encouragement.
In addition to donations, the company is also looking for volunteers to help in a number of ways including planning community events, writers for their blog, and assistance with general administrative issues. Project Autism is hosting volunteer orientations every other month for those interested in becoming a part of their volunteer team.
For more information on Project Autism, visit the new website at http://www.projectautism.org to learn more.
About Project Autism:
Project Autism was founded in 2012 by Michael Conteh, Executive Director of Tangible Difference (http://www.tangibledifference.com). After serving the special needs community for over 13 years in various ways, he wanted to develop a fully comprehensive website filled with educational tools, community events, resources, blogs and research projects to better address the needs and concerns of those affected by autism spectrum disorder.