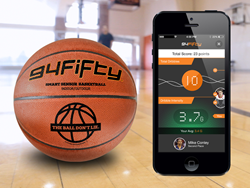 "More and more coaches are talking about the 94Fifty Smart Sensor Basketball as a sophisticated training tool that complements team training and provides quantitative feedback that has never been able to be measured before."
Dublin, OH (PRWEB) March 13, 2014
InfoMotion Sports Technologies (http://www.infomotionsports.com) announces its sponsorship as the official basketball provider of the 2014 CollegeInsider.com Postseason Tournament (CIT) where 32 college teams compete in a bracket style tournament beginning March 18. InfoMotion is a leader in creating innovative products that are game changing training tools to help athletes develop their skills in any sport. Its first product to market, the 94Fifty Smart Sensor Basketball, is the Official Smart Basketball of the National Association of Basketball Coaches (NABC) and has been endorsed by Amateur Athletic Union Basketball (AAU).
During the tournament, a 94Fifty branded basketball, featuring the CIT logo, will be the official ball for all tournament game-play beginning with the first round on March 18 through the championship game on April 3.
"We are proud to support the CollegeInsider.com Post Season Tournament. The CIT recognizes outstanding college teams in the tournament and is a natural fit for us. More and more coaches are talking about the 94Fifty Smart Sensor Basketball as a sophisticated training tool that complements team training and provides quantitative feedback that has never been able to be measured before," said Michael Crowley, CEO of InfoMotion Sports Technologies. "This is our first product to market and we look forward to developing products that go from individual training to team and game-play providing real-time stats to players and fans."
In its sixth year, the CIT brings 32 collegiate basketball teams together to compete. The first round is March 18-19, the second round is March 21-22 and the quarterfinals will be held March 25-27. The semifinals on April 1 and the championship game on April 3 will be broadcast on the CBS Sports Network. InfoMotion is further supporting the sponsorship with national :30 advertising spots that will air during the semi-finals and championship game featuring Cedric, a young athlete who showed amazing improvement from his experience with the 94Fifty Smart Sensor basketball. The spot highlights Cedric from the beginning when he first started with the 94Fifty two years ago through today where is a valued team player. The :60 spot can be viewed here.
InfoMotion is the only company that builds products that can measure both the quantity and quality of muscle memory skills for high-participation team sports such as basketball, and has been embraced by basketball coaches and players. The 94Fifty Smart Sensor Basketball evaluates and diagnoses key skills critical to building confidence, versatility, and success in the game. The companion apps for Apple and Android devices serve as a real-time training tool, allowing young athletes to train on specific skills, work through levels of increasingly difficult workouts and basketball drills, and compete head to head with other players around the world via Twitter.
The 94Fifty basketball utilizes nine sensors inside the ball to deliver real-time shooting and ball-handling feedback including shot speed, backspin and arc measurements, via Bluetooth Low Energy, giving players of any skill level the ability to improve important muscle memory skills more efficiently and effectively.
The small suite of sensors inside the regulation size and weight basketball measures skill precisely and quickly utilizes that data to prescribe proven, personalized methods to improve shooting mechanics, shot release speed, shooting arc, power dribbling, hand-speed, mental coordination, and many other skills that have been traditionally impossible to measure.
94Fifty Smart Sensor Basketball is available for $249.95 at Apple Retail Stores nationwide and online at shop.94fifty.com, Apple.com, Amazon, and Eastbay.com. The 94Fifty App is available for free from the App Store and the Google Play store.
About InfoMotion® Sports Technologies
94Fifty® is the basketball brand of InfoMotion Sports Technologies Inc. (IST). InfoMotion is the world's pioneering leader for innovating sports products that quantify and digitize muscle-memory based athletic skills and for managing online communities in which our customers can share and compare results. 94Fifty develops sophisticated but cost-effective basketball skill analysis technologies for the mass market. 94Fifty is committed to bringing new information to both elite level and youth level basketball so that players can better develop skills and their coaches and trainers have objective information about their development. More information can be found at 94Fifty.com.
###