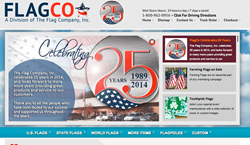 Voted one of Cobb County's top 25 businesses of the year for 2011 and 2012.
Atlanta, GA (PRWEB) March 13, 2014
From its humble beginnings in 1989 when it created the wildly successful real estate marketing tool now known as the Farming Flag™, The Flag Company, Inc. celebrates 25 years in business this year, marked by a huge growth in their services as well as an exhaustive inventory across a network of affiliated companies and websites.
Only seven years after the initial launch of The Flag Company, Inc., they won the contract as flagpole supplier for the 1996 Atlanta Olympics. That same year The Flag Company, Inc. also proved to be visionary in business planning when they launched one of the first e-commerce websites on the Internet.
Today The Flag Company Inc. also counts The Flagpole Warehouse, Feel Good Light Ups, ToothpickFlag.com, Digital Printing Services and sites dedicated to selling Valley Forge flags and merchandise, the patented Flagpole Beacon, and selected solar products at http://www.sunenergywarehouse.com in their family of businesses. With an inventory of over 6500 items ranging from every imaginable flag: personal to state, national, and worldwide; to flagpoles including hundreds of spare parts and accessories; office, home, and school fluorescent light fixture solutions; solar products; and general and specialty deli and catering toothpick flags, The Flag Company, Inc. makes shopping easy and affordable, through functional websites, social media, and their recently launched mobile app.
The Flag Company, Inc. continues to evolve and improve in today's fast-paced online market as they continue to add new products to their line-up to satisfy customer demands, and to fill niche markets. Custom orders across all their companies are an important part of The Flag Company, Inc.'s service including custom-designed flags, digital printing, large format printing (highway signs, oversized banners, and much more), flagpoles and flagpole lighting. They also go the extra mile in customer service. For one recent flagpole order for a hotel located on a cliff in the Caribbean, they not only shipped the flagpole, but also arranged for a special truck to carry the pole up the mountain for installation.
Voted one of Cobb County's top 25 businesses of the year for 2011 and 2012 by the Cobb County Chamber of Commerce, The Flag Company, Inc. looks forward to many more successful years of growing their business.
About The Flag Company, Inc.
In addition to being the largest online supplier of flags and flagpoles, The Flag Company, Inc. owes its start to the success of its original product, Farming Flags™. The Flag Company, Inc. also manufactures its patented Flagpole Beacon for its Illuminator Series flagpoles and for single sale retrofits. Eighteen distinct categories of customers can choose from an expansive inventory of over 6,500 items. The Flag Company, Inc. now also partners with a machine and manufacturing company, expanding its capability to provide custom brackets, finials, hardware, etc. for special situations. Additionally, it is collaborating on creating robotic equipment for use in the flagpole industry.
With special and challenging projects a strength for The Flag Company, Inc., resumé highpoints include flagpoles for Georgetown University in Qatar, the Spiral Rotonde at Aruba International Airport, and Dow Chemical Headquarters in Michigan, and harking back to the 1996 Centennial Olympics in Atlanta, GA, and prior.
Celebrating 25 years of providing excellent products and customer service, The Flag Company, Inc. appreciates all its loyal customers and hard-working employees as it looks forward to many more years of leading the industry. The Flag Company, Inc. has websites targeting its many customer categories: http://www.flagpolewarehouse.com, http://www.valley-forgeflag.com, http://www.feelgoodlightups.com and http://www.toothpickflags.com.