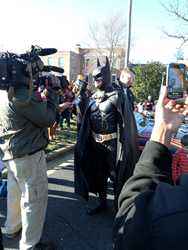 WASHINGTON, DC (PRWEB) March 13, 2014
As part of National Inhalants and Poison Awareness Week, the Alliance for Consumer Education (ACE) will team up with America's favorite superhero to educate local kids on the dangers of inhalant abuse and the importance of poisoning prevention. The Health and Safety Fair will be held March 21.
ACE and Batman will also be supported by local heroes from the Alexandria Department of Recreation, Parks, and Cultural Activities, the Alexandria Police Department, the Boys & Girls Clubs of Greater Washington, the Consumer Aerosol Products Council, Inova Hospital, and the Substance Abuse Prevention Coalition of Alexandria.
Kids in attendance will learn how to be superheroes in their homes. The kids will rotate through eight stations, including a chance to shake wings with Batman. Others include the Risky Behavior station and Inova's Healthy Habits station. Parents will also be able to sign up their children for the Child Id Program, courtesy of the Police Department.
"A child is 50 percent less likely to try an inhalant if an adult has spoken to them about the dangers of inhalant abuse," said Colleen Creighton, ACE executive director. "We try to reach kids and parents with information to get the conversation started," Creighton said.
Did you know?

Inhalants are the fourth most-abused substance after alcohol, tobacco, and marijuana.
*Over 2.6 million children, aged 12 – 17, use an inhalant each year to get high.
*Last year, over three million calls were placed to poison centers nationwide.
*Last year, 30 people died due to poison-related exposure
The event will take place from 4:15-8pm at the Boys & Girls Club: Dunbar Alexandria- Olympic Branch (401 North Payne Street, 22314). Further details are available at http://www.inhalant.org/nipaw.
About ACE
The Alliance for Consumer Education (ACE) is a 501(c)(3) nonprofit organization founded in 2000. The ACE mission is "to promote responsible and beneficial use of products to ensure a safer, healthier and cleaner environment in homes, businesses and the community." Its core program areas are: Inhalant Abuse Prevention, Disease Prevention, Poison Prevention, and Product Management. ACE is affiliated with the Consumer Specialty Products Association. For more information please visit http://www.consumered.org/.