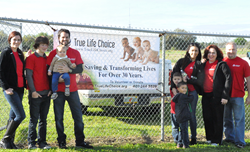 As we wait on the final count for funds raised through YOU, our faithful partners at our Walk for Life, we give thanks to GOD and YOU for pushing us to $49,000 raised and counted so far! - True Life Choice
(PRWEB) March 14, 2014
On Saturday, March 8th, associates and family members from Universal Roof & Contracting joined hundreds of walkers among three Orlando, Florida locations for the True Life Choice (TLC) Walk for Life 2014. Their goal was to increase awareness and gain financial support for the non-profit organization and for the families who regularly receive life-affirming and practical counsel.
The west Orlando walk location was hosted by the First Baptist Church of Central Florida where Senior Pastor Clayton Cloer, TLC Board Vice President Laura Romot, and Congressman Daniel Webster shared with passion their vision and stories about lives changed and saved by the efforts of True Life Choice. The mission of TLC is to equip individuals to make informed, life-affirming choices regarding unplanned pregnancies and to share the Gospel of Jesus Christ. Calculations are not yet complete, but so far, the Walk for Life 2014 has raised $49,000.
Other Universal Contracting Community Works Sponsored Events and Building Projects:

Community Food & Outreach Center Monthly Family Volunteer Nights
Wetlands Conservation, Ducks Unlimited Orlando Fundraising Dinner
The Lovely Project fundraising support
Area Volunteer Fire Departments
Upcoming UCCW Events:

Spring 2014 - Neighbors in Need ReRoof Project: A local disabled man has been chosen to have a roof replacement from Universal Roof and Contracting.
Spring 2014 - Boy Scouts of America Project & Easter Seals Camp Challenge Archery Pavilion: Universal Roof & Contracting is sponsoring plans for camp renovation, starting with new roof installation and siding panels of the archery pavilion.
May 17 –CFRSA Golf Tournament to benefit "Give Kids the World Village" and "The Russell Home" charities.
May 24 - Ronald McDonald House of Charities of Central Florida "Share-A-Meal"
For a complete list of Universal Contracting Community Works sponsored events and links to involved Central Florida area organizations, visit the Universal Contracting Community Works website.
About Universal Contracting:
Jared Mellick and his father Ken Mellick are the owners of Central Florida's premier construction company Universal Contracting, a family-run business which has been serving homeowners and business owners in the Greater Orlando area for more than 20 years. Together they host a local radio home improvement and construction talk show called "In the House with Ken & Jared."