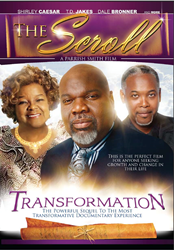 "The Scroll gives you an opportunity to look beyond the lips of the prophet, into the heart, and fears, and the feet of the prophet." Bishop T.D. Jakes
Atlanta, GA (PRWEB) March 18, 2014
Faithwerks Motion Pictures, a division of Urban Home Entertainment, is excited to partner with award winning filmmaker, Parrish Smith again in The Sequel to the powerful, life-changing film "The Scroll". "The Scroll: Transformation" picks up where the last film left off and goes far beyond in depth, wisdom and insight.
Parrish, the son of a preacher, has seen the inside struggles, trials, and tribulations of being a preacher's kid, giving him special insight and in-depth knowledge to ask personal, revealing and candid questions to the biggest mega pastors. His candor not only opens old wounds, but also sheds light on what made these people committed and focused on God and their faith. Parrish, an accomplished filmmaker, has produced & shot numerous feature films and commercials including "The Last Adam", "Kingdom Comedy" featuring Rickey Smiley, airing on TV ONE, "Four College Kids" and "Destiny" on BET J. The Scroll: Transformation is his foremost important work.
The Scroll: Transformation takes some of the biggest leaders in African American spiritual leadership and provides a deep and personal introspection of their most intimate and public downfalls. Many of these leaders have made national and international news and show how faith played a major part in their transformation. They've transformed from eventual restoration from the brink of moral, spiritual, and financial bankruptcy.
The Scroll: Transformation is the perfect film for anyone who has ever been cast down, written off or has gone through shame, hurt, or have made major transgressions publicly and privately. It teaches us how one is exempt from the human condition. Through parables and testimonials, it's proven that God's grace is sufficient and for everyone.
T.D. Jakes, Shirley Caesar, Marvin Sapp, Bishop Noel Jones, Dale Bonner, Della Reese, Bernice King, Pastor John K. Jenkins, and many more reveal lessons about growth and personal transformation.
Faithwerks is the faith-based sector of UHE. UHE is an African American boutique film company headed by father son team Barrett and Trae Dungy. UHE is independently own and operated in Atlanta, GA since 2001. Their content is carried in over 2400 mass retailers, e-tailers and digital outlets across the globe.
Get your copy today for a life changing experience!