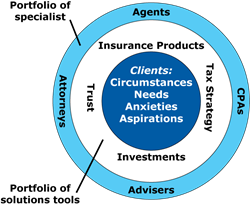 ... clients gain the benefit of comprehensive planning and execution attended to by a coordinated team...
St. Louis Park, MN (PRWEB) March 21, 2014
Just as a person would trust the opinion about a movie from their friend more than a stranger, the same can be true when it comes to a client trusting financial advice from a recommended source rather than a stranger. The market place is speaking loud and clear about the most important attribute when making a decision to hire an investment manager, trustworthiness. Clients hire practitioners, not just to plan but also to execute.
The growing trend in response to client demand within the financial service industry according to the Journal of Financial Planning is the bundling of services in which clients gain the benefit of comprehensive planning and execution attended to by a coordinated team of financial advisers, trust and estate attorneys, CPAs, and insurance specialists. This form of partnership is called the multidisciplinary team (MDT) model.
Companies such as MyDisabilityPLans find their place among these teams of dedicated specialist with the creation of their wealth manager division. Providing valuable insight into their specialty in the income protection market to provide clients with an opinion they can rely on as the recommendation is delivered through a coordinated team approach at the wealth manager level.
The MDT model is thriving in the small-to mid-sized financial firms as opposed to larger firms which rely on internal-staffing capabilities. In small-to mid-sized firms, the stakes are much higher. Each member of the MDT is held to a higher standard as it is a reflection upon every other member of the team. If there is someone who isn't operating in the best interest of the client or per the agreed upon client protocol, they will be replaced by another firm that meets the ideals and standards that are put in place.
For this reason, an MDT operates with its own series of checks and balances which help relieve the uncertainty a client may feel when deciding on recommendations for financial services and risk protection.
The addition of the wealth manager division opens MyDisabilityPlans up for advisors to easily interact with and see what MyDisabilityPlans has to offer as a partner on an MDT. The experience that MyDisabilityPlans brings, with its knowledge and expertise in disability and long-term care insurance analysis and implementation supports the multidisciplinary team model of fee-only comprehensive financial planning and execution.
To learn more about MyDisabilityPlans Advisors, click here.