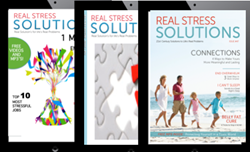 Humans need connection and being lonely is huge source of tress that people don't often think about.
Provo, Utah (PRWEB) March 13, 2014
Angela Bussio, editor of the new digital magazine Real Stress Solutions, welcomes Dr. Diana Kirschner, to the Expert Panelist team to address the stress caused by loneliness for humans.
Dr. Diana Kirschner appeared on Oprah & starred in a PBS TV Special on love. She has helped thousands all over the world to create greater self-esteem and more loving relationships. Her latest book is "The Diamond Self Secret: Say Goodbye to Your Inner Critic & Hello to Self-Acceptance, Serenity, & Lasting Love." She also authored the bestseller, Love in 90 Days. Dr. Diana's website, http://www.Lovein90Days.com is a leading source of dating and relationship advice.
"Humans need connection, and being lonely is a huge source of stress that people don't often think about", says Angela. In fact, making meaningful connections is actually one of the 6 core causes of stress in the Real Stress Solutions magazine. "This 6 core cause paradigm is something I came up with as I was studying stress and trying to help my private clients who were so stressed out.
The goal of the magazine is to have pioneering experts in each of the six areas to offer real 21st century solutions to stress. The six areas are: Exercise; Nutrition; Managing Emotions/Mindset; Sleep;Managing toxic elements of the 21st century ;and creating meaningful human relations.
Dr. Kirschner certainly fits the criteria as a pioneer and expert with her online mentoring programs and holistic approach to love. To see Dr. Diana feature article about "Calming a Troubled Mind", please go to this link for Iphone/Ipad: and click here for all Android digital devices