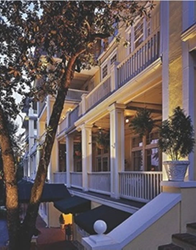 Indianapolis, Indiana (PRWEB) March 13, 2014
Bullseye Event Group, one of the nation's leading event and group ticket companies, announces Exclusive Hotel Packages for the Masters.
Nestled in the heart of the historic Summerville district on a quiet hilltop overlooking Augusta, Georgia, The Partridge Inn is located just two miles from Augusta National Golf Club, home to the ultimate golfer's experience, the Masters. For more than a century, The Partridge Inn has hosted world events, presidential visits and lavish social functions. Known as "The Grand Hotel of the Classic South," the hotel has earned a reputation for luxurious accommodations, award-winning dining and personalized service, creating legendary memories for guests.
During Masters week, guests will enjoy dinner or a cocktail on more than a quarter-mile of verandahs and balconies wrapping around the hotel, or a swim in the secluded outdoor pool. Or as they say in the South, anything your little heart desires.
Bullseye Event Group has arranged for 3 hotel packages at the partridge inn to choose from:
PAR 3 April 9-11

Two-night accommodations
Tickets Wed Par 3 round & Thu Opening round
Transfers to & from Aug Nat'l
Southern Style Buffet Breakfast
OPENING ROUNDS April 9-11

Two-night accommodations
Masters tickets Thu & Fri
Transfers to & from Aug Nat'l
Southern Style Buffet Breakfast
WEEKEND ROUNDS April 11-14

Three-night accommodations
Masters tickets Sat & Sun
Transfers to & from Aug Nat'l
Southern Style Buffet Breakfast
Packages can be custom designed to accommodate your desired hotel nights needed.
The Partridge Inn is a charming introduction to all Augusta has to offer. In addition to the Masters, guests can enjoy numerous sights and attractions just minutes away, including tours of the most beautiful antebellum homes in the South, the Appleby Library, Enterprise Mill, Confederate Powerworks, Riverwalk, the Woodrow Wilson Home and more.
About Bullseye Event Group
As a secure, official source for travel, hotel, pregame parties and tickets, Bullseye Event Group is a direct and dependable source for Super Bowl packages, delivering unforgettable experiences to fans.