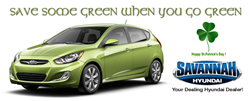 Sonata Hybrids Rock the Green for St Pat's Day!
Savannah, GA (PRWEB) March 14, 2014
For many years, Savannah, Georgia has made the list for hosting one of the top 10 St. Patrick's Day parades in the world. Yes, in the world. Typically, over 400,000 people gather to celebrate St. Patrick's contribution to the Christian faith. Savannah Hyundai is announcing their commitment to "going green" through increased inventory of Sonata Hybrids, Hyundai's premiere hybrid vehicle. With St. Patrick's Day in Savannah is known worldwide, the whole town goes green, literally. Special discounts will be offered to customers from March 17th through the 31st if they buy any of the environment friendly cars that Hyundai has to offer. This year Savannah Hyundai has decided to celebrate St. Patrick's Day by giving its customers more "green" choices.
Hybrids are considered green cars because they have better gas mileage and lower emissions. The trend to "go green" is not one that is going away. According to hybridcars.com, hybrid vehicles and plug-in electric cars continue to increase their market share. Hyundai's hybrid sales increased by 32 percent in the month of February compared to the same month last year.
The 2013 Hyundai Sonata Hybrid was revamped to meet government standards for hybrids. It has an estimated EPA gas mileage of 40 MPG. In an analysis of the top Hybrid automakers, Hyundai was ranked 3rd by hybridcars.com with its featured Sonata Hybrid.
Savannah Hyundai decided to capitalize on this trend to go green. "Our customers want cars with better gas mileage and that are better for the environment," said Mark Medinger, owner of Savannah Hyundai. "St. Patrick's Day is the perfect time to look at our 'greener' cars." Currently, Savannah Hyundai reports to have 32 Hyundai Sonatas on the lot and an offer to special order a vehicle at no extra charge.
Hyundai continues to lead the market of green vehicles. Hyundai announced late last year that they will be manufacturing the first-ever hydrogen-powered vehicle for the mass market with their Hyundai Tucson. And Hyundai just announced that they will reveal a battery-operated electric vehicle in 2016.
"Going green" for St. Patrick's Day is usually associated with wearing a green shirt and eating green food. But Savannah Hyundai is trying to take it one step further and help Savannah be green all year by selling more hybrids. "It's good for our customers and for the city of Savannah," commented Medinger. Savannah Hyundai will be open all day on St. Patrick's Day at their 7011 Abercorn St location.