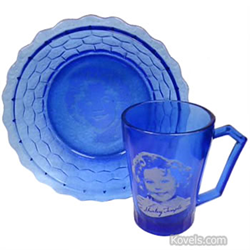 Cleveland, OH (PRWEB) March 13, 2014
The Kovels' Top Ten list is based on the results of hundreds of thousands of searches that took place on its website during February, 2014. Occupied Japan remains on top, proving Kovels.com is one of the web's most popular sources for Occupied Japan collectibles prices.
Shirley Temple is a newcomer to the Kovels Top Ten list, appearing at No. 4. Shirley Temple Black, the famous child actor turned wife, mother and U.S. diplomat, died on February 10 and news articles about her life created extra interest in her memorabilia. She was born in 1928 and made her first movie in 1932. She was wildly popular with movie goers during the 1930s and '40s. The image of the little blond girl with curls, dimples and a big smile can be found on thousands of items—clothing, charm bracelets, pins, necklaces, books, paper dolls, movie posters, sheet music, dishes and of course, dolls—all of which are avidly collected. Items that are also labeled with her name are collector favorites.
During February 2014 antique enthusiasts were busy researching:
1. Occupied Japan
2. Stoves
3. Coca-Cola
4. Shirley Temple
5. Fenton
6. Bavaria
7. Capo-Di-Monte
8. McCoy
9. Depression Glass
10. Wedgwood
Collectors who search Kovels.com can learn more about identifying features, marks and prices. Kovels.com and "Kovels' Antiques and Collectibles Price Guide" list thousands of collectibles in hundreds of categories that are described, edited, priced and pictured.
Terry Kovel is America's foremost authority on antiques and collectibles. She is the well-known columnist and author of more than 100 books on antiques and collecting. With her daughter, Kim Kovel, she co-authors the best-selling annual "Kovels Antiques and Collectibles Price Guide." Both Terry and Kim are collectors. They will discuss antiques and collectibles topics with accredited media. Photographs are available. Contact pr(at)kovels.com.
About Kovels.com
Kovels.com, created by Terry Kovel and Kim Kovel, provides collectors and researchers with up-to-date and accurate information on antiques and collectibles. Kovels' Antiques was founded in 1953 by Terry Kovel and her late husband, Ralph. Since then, Kovels' Antiques has published some of America's most popular books and articles about antiques, including the best-selling "Kovels' Antiques and Collectibles Price Guide," now in its 46th edition. The Kovels' website, online since 1998, offers 900,000 free prices and includes a free weekly email, "Kovels Komments." It give readers a bird's-eye view of the market through the latest news, auction reports, a Marks Dictionary, readers' questions with Kovels' answers and much more.
Contact Information:
Liz Lillis
216.752.2252