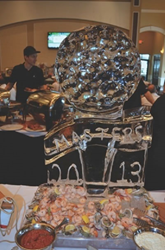 Indianapolis, Indiana (PRWEB) March 14, 2014
Bullseye Event Group, one of the nation's leading event and group ticket companies, has arranged an unforgettable experience at the Masters Golf Tournament, with the very best in travel packages, tickets and also Masters Hospitality.
Bullseye hand-selected The Legends Club as the ultimate hospitality destination, especially for its convenience and proximity to Augusta National Golf Club –just about a 9 iron shot away. This extraordinary destination inspires equally extraordinary hospitality, unrivaled by any in the Augusta area.
VIP Luxury at Your Convenience. For the ultimate Masters experience, The Legends Club of Augusta offers unparalleled service and amenities for guests attending the Masters Tournament:

private, climate-controlled VIP lounges
reserved soft leather seating in an elegant setting
relaxed, comfortable seating on the outdoor patio
premium five-star catering throughout the day, with gourmet breakfasts, lunches and hors d'oeuvres
an all-day open bar featuring premium spirits and beverages
In addition, stay up-to-date with all Masters activity during your hospitality stay, with real-time golf scores and top-of-the-line, closed-circuit television coverage.
Hospitality at the Legends Club not only redefines the 19th hole, it is the environment that relaxes those tired legs and satisfies that appetite for the finer things that only this very special place affords.
Bullseye Event Group is focused on creating the best environment for guests of the Masters to grow relationships and vital connections professionally or otherwise:
Enjoy full business facilities, including wireless internet access
Access to additional enhancements such as corporate branding, client gifting, etc.
Travel assistance
Preferred access to hotel accommodations, private homes, tee times, dedicated transportation, custom invitations, dinner reservations and much more
MASTERS HOSPITALITY IS A TOURNAMENT TRADITION
With an unbeatable location -only steps from the main entrance gate to the Tournament golf course, directly across from the grounds- guests are able to walk to and from the Tournament and The Legends Club in style. However, convenient valet parking is also available.
About Bullseye Event Group
As a secure, official source for travel, hotel, pregame parties and tickets, Bullseye Event Group is a direct and dependable source for Super Bowl packages, delivering unforgettable experiences to fans.