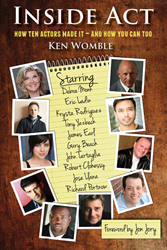 Why do some actors make it and others don't?
New York, NY (PRWEB) March 14, 2014
Author and theater professional Ken Womble interviews actors Debra Monk and Jose Llana upon the release of Womble's new book, Inside Act: How Ten Actors Made It – And You Can Too. Womble will interview Monk and Llana about their acting careers and ask why some actors make it and others do not. This free, public event is hosted by the Drama Book Shop (http://www.dramabookshop.com/) and takes place on March 19, 2014 from 5-7pm. The interview runs from 5-6 pm followed by a book signing from 6-7pm.
In his new book, Inside Act: How Ten Actors Made It – And You Can Too (Hansen Publishing Group, 2014), Ken Womble sets out to find the answer to the question: Why do some actors make it and others don't? Womble interviews actors Debra Monk, Eric Ladin, Krysta Rodriguez, Tony Yazbeck, James Earl, Gary Beach, John Tartaglia, Robert Clohessy, Jose Llana and Richard Portnow about their inside acts, the important choices of their acting careers. The interviews explore the intriguing journeys that have led these actors to successful careers and to Tony, Emmy, and Screen Actors Guild Awards, the most prestigious acting awards in theater and television.
Ken Womble is an Associate Professor of Theater at the University of Northern Colorado specializing in acting and auditioning. As a professional audition coach, Ken has prepared actors for feature film, television and Broadway tour auditions and conducted audition workshops at numerous venues.
Emmy and Tony Award winner Debra Monk has appeared on Broadway (Redwood Curtain, Pump Boys and Dinettes, Cat on a Hot Tin Roof, Steel Pier, and Picnic), in film (The Savages, Devil's Advocate, Extreme Measures, The Bridges of Madison County, Jerey, and Fearless), and TV (NYPD Blue, Grey's Anatomy, Damages, and Glee).
Jose Llana made his Broadway debut as Lun Tha in the 1996 revival of The King and I. His TV/film appearances include HBO's Sex and the City opposite Margaret Cho and Hitch opposite Will Smith. Llana is a constant advocate for Broadway Cares/Equity Fights AIDS and Broadway Impact for Marriage Equality.
About Hansen Publishing Group
Hansen Publishing Group is an indie publisher specializing in books on acting, theater history, Tennessee Williams, film, poetry and fiction. Hansen Publishing Group is home of Karen Kondazian's award-winning novel The Whip, David Kaplan's Shakespeare, Shamans and Show Biz, John DiLeo's Screen Savers, and Richard Leavitt and Kenneth Holditch's The World of Tennessee Williams. For more information please visit our website http://hansenpublishing.com/.
###