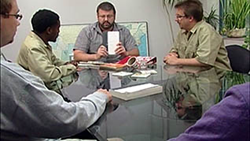 Novi, Michigan (PRWEB) March 13, 2014
When dealing with hazardous materials (HazMat), every detail must be thoroughly monitored to ensure safety. Every day facilities around the United States transport hazardous materials throughout the country by way of land, sea, air, and pipelines. Because of the potential health and safety risks hazardous materials pose, training on proper safety procedures is required to prevent accidents. Mastery Technologies released four new hazardous materials courses to help meet training requirements for the United States Department of Transportation (DOT) regulations for handling and transporting hazardous materials. The courses are released with the added value of being published on Mastery's Video On Demand (VOD3) platform, allowing learners the ability to play courses on any mobile device, no matter the browser or operating system.
Mastery's four new DOT HazMat course titles include:
•DOT: HAZMAT: General Awareness
•DOT: HAZMAT: Security Awareness
•DOT: HAZMAT: Safety Training
•DOT: HAZMAT: In-Depth HazMat Security Training
Each course demonstrates safety and security in the proper handling, recognizing, and understanding of the hazardous materials present in various workplaces. It is imperative every worker be able to recognize and understand the dangers associated with the hazardous materials they come in contact with, in order to safely handle and transport the materials.
At $19.95 per play, with volume discounts available, these courses are a valuable addition to an organization's safety training plan. Mastery's VOD courses contain the entire instructional presentation of a training course. All of Mastery's VOD courses include a topical index, displayed on the side of the video when not in full-screen mode. Most VOD courses end with a quiz, including feedback on question answers. Narrated quizzes may be included, as well as additional resources such as downloadable workbooks and job aids.
VOD courses provide large images which appear sharp when viewed in a normal video window. Full screen display sizes are provided, delivering clear audio and sharp video, even when projected or displayed on HDTV screens. Video On Demand titles play on all devices, including desktops, smart phones and tablets. Visit Mastery.com for more information on these courses, as well as other DOT and HazMat course titles available in Mastery's extensive course library.
About Mastery Technologies Inc.
Mastery Technologies established the e-learning industry's first Training Content Network. Mastery partners with leading video content providers to co-produce the largest, standardized, workplace e-learning library available. Mastery goes beyond connecting customers with content, by pro-actively supporting both customers and content partners. In this way Mastery fulfills its mission of helping build more successful, effective and amazing organizations.