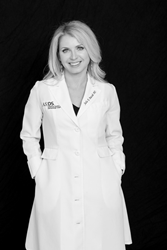 With the opening of our new clinic, people who work or live in Manhattan and beyond will now have access to the highest level of care and most current medical and cosmetic technology for lifelong healthy skin, all in one convenient location
New York, NY (PRWEB) March 13, 2014
Julie E. Russak, M.D., FAAD, announces the opening of Russak Dermatology Clinic, a state-of-the-art practice that provides comprehensive care in medical dermatology, dermatological surgery, and non-surgical cosmetic dermatology in midtown Manhattan. Dr. Russak, a melanoma expert, treats an extensive range of medical conditions for adult and pediatric patients while also offering the latest cosmetic treatments that require little or no downtime, including injectables, laser treatments, and an array of non-invasive rejuvenation procedures.
"With the opening of our new clinic, people who work or live in Manhattan and beyond will now have access to the highest level of care and most current medical and cosmetic technology for lifelong healthy skin, all in one convenient location," says Dr. Russak, a board-certified dermatologist who is also an assistant clinical professor at the Mount Sinai Hospital in New York City. "Our goal is to provide the advanced skills and services, personalized attention, and positive patient experience that are key to the most effective dermatological care."
Russak Dermatology Clinic is located in the GALLERIA building at 115 East 57th Street. Designed by the internationally acclaimed Antonio Tadrissi of Prototype Design Lab, known for its innovative architecture style, the stylish boutique space features amazing views of midtown Manhattan and sleek and spacious treatment rooms equipped with the latest technology and amenities. Flat screens in every room and wi-fi accessibility throughout the clinic ensure a comfortable and relaxing patient experience.
The clinic offers treatments for a wide variety of medical conditions of the skin, hair, and nails, including skin cancer, acne, rosacea, psoriasis, hair loss, and varicose veins. Within the medical division, Dr. Russak is one of the few doctors in New York City to be trained in the use of MelaFind®, the first FDA-approved non-invasive and painless medical device to detect melanoma in its earliest stages. She also provides dermatological skin-cancer surgery
on the premises.
The aesthetic division features such cosmetic services as laser treatments; intense pulsed light facial rejuvenation; fractional resurfacing to address skin texture and tone, scars, and stretch marks; and injections of dermal fillers and neuromodulators (Botox®, Dysport™, and Xeomin®). Russak Dermatology Clinic is one of the first practices in Manhattan to offer Juvéderm Voluma™ XC, the filler for the mid face to correct age-related volume loss that was FDA-approved in November 2013 for use in the cheek area. It is also one of the few dermatology practices in New York to offer Dermaplaning, a quick, safe, and effective method of exfoliating the skin and ridding it of vellus hair (peach fuzz). Other popular procedures include Belotero Balance®, a dermal filler specially designed to integrate into the skin and mold to a patient's distinct facial contours; hand rejuvenation, a combination of fractional laser resurfacing, dermal fillers, and Ultherapy®; and liquid facelift, a mix of dermal fillers and neuromodulators.
Dr. Russak also provides a comprehensive skincare analysis and personalized skincare regimen for all her patients. Basing her advice on clinical studies, the latest understanding of skin molecular structure, and ingredient formulations that have been proven effective, Dr. Russak creates a customized cocktail of topical antioxidants, growth factors, and peptides to address an array of skincare concerns.
For more information about Julie E. Russak, M.D., and Russak Dermatology Clinic, visit russakdermatology.com or follow her practice on Facebook and Twitter (@RussakDerm). To interview or make an appointment with Dr. Russak, contact Juliet Cavallaro at juliet(at)russakdermatolgy.com or (646) 873-7546.
About Julie E. Russak, M.D.
Dr. Russak is a board-certified dermatologist, a Fellow of the American Academy of Dermatology, and a member of the American Society of Dermatologic Surgery. She graduated with honors from New York University School of Medicine and completed her dermatology residency at the Dartmouth Hitchcock Medical Center, where she served as chief resident. She completed an Oncology Melanoma Fellowship with world-renowned melanoma expert Darrell Rigel, M.D., and is the recipient of the Marianne Salzberg Award in Dermatology and the Jonas E. Salk Scholar Award. In addition to having a thriving practice, she is an assistant clinical professor at Mount Sinai Hospital, where she teaches dermatology residents and medical students.