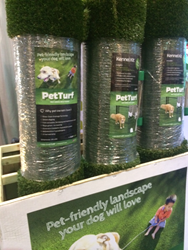 We now have pre-cut roll options and kennel kits, pet-friendly grass with all the installation supplies for outdoor kennels and dog runs.
Orlando, FL (PRWEB) March 13, 2014
EasyTurf unveils their latest line of artificial grass, PetTurf™ as a part of the Global Pet Expo today through Friday at the Orange County Convention Center in Orlando, Fla.
"We now have pre-cut roll options and kennel kits, pet-friendly grass with all the installation supplies for outdoor kennels and dog runs," said David Hartman, EasyTurf President. "Now dog owners who cannot replace an entire landscape can still benefit from our dog-friendly turf. This product gives pet owners a more affordable option when working to improve their dog's quality of life and eliminate common landscape problems associated with pets."
The EasyTurf display includes an interactive look at the ingenious engineering involved in the creation of their artificial grass and proprietary MaxxFlow backing, an especially important point for pet owners.
"EasyTurf has been an innovator of synthetic grass landscaping and has taken a leading role in educating consumers to our many benefits," said Jackie Luper, EasyTurf Vice President, Marketing. "We're excited to join the Global Pet Expo in Orlando and show pet industry professionals how we can help them to expand their product lines and outfit their businesses to meet this growing need in the pet market."
World renowned dog whisperer, Cesar Millan recently introduced EasyTurf artificial grass as his turf-of-choice for pet owners. Millan says drainage was critical in his decision to partner with EasyTurf on the 10,000 sq. ft. installation of artificial grass at his Dog Psychology Center in Santa Clarita, Calif.
"We have a lot of land to cover, so it's important to me that our landscaping is easy to care for, safe for our pack and has proper drainage," said Millan. "Not only does Easy Turf look just like natural grass, it helps to eliminate common lawn problems associated with pets like brown spots from urine, tracked in mud, grass clippings and it can even deter your dog from digging holes."
EasyTurf uses a proprietary 100 percent permeable artificial grass backing, MaxxFlow, for unmatched drainage capabilities. Unlike a grass lawn, rain will not turn an EasyTurf surface into a mud pit. Natural grass lawns require regular maintenance, tremendous amounts of water, pesticides, herbicides, fertilizer and time to maintain. EasyTurf doesn't require any of that and with a 15-20 year life expectancy, its durability is unmatched.
"EasyTurf's superior synthetic grass products are matched by a dedication to exceptional craftsmanship and customer service," Hartman said. "Our commitment to excellence continues to attract homeowners and commercial businesses searching for functional, aesthetic improvements."
EasyTurf, the landscape division of FieldTurf, plays an important role in environmentally friendly lawns, recreational fields, playgrounds and energy conservation plans for communities throughout North America.
For more information about the Global Pet Expo, please visit http://www.globalpetexpo.org.
About EasyTurf:
In May 2010 EasyTurf, Inc., a long-time distributor of FieldTurf line of landscaping products and a recognized leader in the artificial grass industry, became the national brand of FieldTurf landscape, pets, playground, and golf artificial grass products. The partnership allowed FieldTurf to rapidly expand its existing dealer network and accelerate sales and distribution of FieldTurf landscape products on a national level to homeowners, municipalities, schools, businesses and the military.
EasyTurf is North America's preeminent source for landscaping, offering state-of-the-art synthetic lawns for realistic, beautiful, easy-care residential and commercial landscapes, providing specialty synthetic grasses engineered specifically for military surfaces, commercial and residential athletic and playground surfaces, putting greens, and for pet-friendly landscapes. EasyTurf product advancements in the synthetic grass industry have led to massive growth for the Vista, California-based leader in life-like artificial lawns that stay beautiful year round.
FieldTurf has long been the world leader in synthetic sports field cover; now EasyTurf joins them as the industry leader in residential and commercial synthetic turf markets.
Contact:
Jackie Luper, VP of Marketing
Phone: (760) 745-7026
Fax: (760) 888-2011