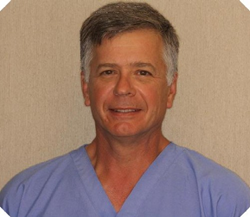 Corpus Christi, TX (PRWEB) March 12, 2014
Dr. Tilman Richards, as part of Gum Disease Awareness Month, is urging his current patients along with any prospective patients to increase their awareness of the gum disease symptoms that indicate the presence of gum disease. Patients who are experiencing painful or bleeding gums should strongly consider the evaluation of their treatment options through a consultation with Dr. Richards, as the doctor offers a number of procedures, including the Laser Assisted New Attachment Procedure, or LANAP®, which may be helpful in rectifying gum disease.
While there are other treatment methods available, LANAP® has become a treatment of choice at Dr. Richards' office. LANAP® is a minimally invasive procedure that does not necessitate the use of a scalpel or sutures, resulting in a procedure that is more comfortable and effective. According to Dr. Richards, the recovery time from this procedure is about 24 hours, allowing patients to opt for a convenient solution to their gum disease symptoms, including bleeding gums or gum pain.
The relevant statistics on gum disease are quite staggering. According to the Centers for Disease Control and Prevention (CDC), 47.1 percent of adults age 30 or older suffer from gum disease in some form, whether that is mild, moderate or severe. The rate of prevalence increases significantly among the population of adults age 65 or older, with 70.1 percent of adults suffering from gum disease and the inherent gum disease symptoms. Fortunately, gum disease is a very treatable condition, especially when the treatment is performed in the early stages of the disease. Dr. Richards is urging individuals who are suffering from bleeding gums, gum pain or any other symptoms to take a proactive approach to seeking treatment, recommending that patients do not delay in this endeavor.
Individuals who are interested in exploring their treatment options should call the office of Dr. Richards at their earliest convenience to schedule an appointment, while those who are interested in learning more can find a wealth of information on the doctor's website.
About the Doctor
Tilman Richards, DDS is a general dentist who has provided patients personalized dental care in Corpus Christi, TX since 1984. Dr. Richards graduated with honors from Sam Houston State University with a Bachelor of Science in biology, and he attended Baylor Dental School in Dallas where he received his degree as a doctor of dental surgery. He is also a member of the American Dental Association, Texas Dental Association and Nueces Valley District Dental Society. Dr. Richards is part of one percent of dental professionals providing the LANAP® FDA cleared laser procedure for gum disease treatment. To learn more about Tilman Richards, DDS and his dental services visit his website at http://www.corpus-christi-dentist.com and call (361) 238-2373.