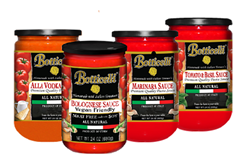 Our premium sauces incorporate the rich and robust taste associated with authentic Italian cuisine.
Dallas, Texas (PRWEB) March 13, 2014
Connoisseurs of good food – and healthy eating – now have new pasta sauces to add to their repertoire, thanks to four new homemade-style pasta sauces by Botticelli. Debuting in stores this spring, Botticelli's new collection includes Marinara, Tomato Basil, Alla Vodka and a vegan-friendly Bolognese sauce, all available in 24 oz. jars.
True to Botticelli's authentic Italian heritage, each sauce is made from scratch, using 100 percent Italian tomatoes straight from the farm, mixed with Botticelli Olive Oil and the highest quality seasonings. To ensure the homemade taste, the sauces are made in small batches and then added to the larger batches for distribution. While all sauces are made with a combination of fresh and flavorful ingredients, the Bolognese sauce includes soy-based products making it a meat-free and vegan-friendly alternative.
"Our premium sauces incorporate the rich and robust taste associated with authentic Italian cuisine," said Salvatore Asaro, President of Botticelli-Foods. "With our unique blend of farm-fresh tomatoes, quality spices and Botticelli Olive Oil, these pasta sauces, as well as all of Botticelli's products, serve to enhance the flavor of your meal as well as your overall dining experience."
Keep up to date on all of the latest news, recipes and company announcements by liking Botticelli on Facebook, https://www.facebook.com/pages/Botticelli-Olive-Oil/97042193734?ref=hl; following it on Twitter, http://www.twitter.com/BotticelliFoods; and visiting the Botticelli blog at botticelli-foods.com/blog.
About Botticelli Foods
Botticelli Foods is committed to bringing the quality and authenticity of Italian olive oil to the American consumer. The tradition of the Botticelli family of products is one that begins in Italy and has spanned in various regions to collect only the finest ripe olives. Botticelli Olive Oil has a one of a kind profile, with a perfect combination of fruit and spice, making the most distinctive olive oil available. For more information, visit the Botticelli Foods website at Botticelli-Foods.com.
Media Contacts:
Michael A. Burns & Associates, Public Relations
Jennifer Green
JGreen(at)MBAPR(dot)com
P: 214-521-8596
F: 214-521-8599