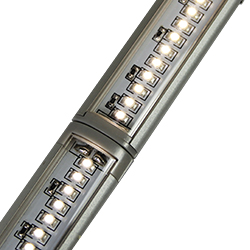 the long-lasting LUX Linear will enhance visual comfort and productivity
Santa Barbara, CA (PRWEB) April 02, 2014
Mighty Bright, designer and manufacturer of innovative LED lighting products, is thrilled to introduce the newest addition to the LUX Line, the LUX Linear LED Undercabinet Light. The LUX Linear is an eco-friendly LED Undercabinet Light designed to affix easily to existing casegoods in offices, hospitality spaces, and residential interiors. The LUX Linear can be seen at http://www.lux-led-lights.com.
Efficient and streamlined, the minimalist LUX Linear LED Undercabinet Light is the perfect solution for office spaces, kitchens, hospitality casegoods, bathrooms, and closets. The LUX Linear features an intelligent touch controller and full-range dimming, enabling users to select their preferred brightness level and modify it at will. Only half an inch thick, the LUX Linear is discreet yet utilitarian – connect up to four light bars together to illuminate a broader workspace. With bright white LEDs and durable construction the long-lasting LUX Linear will enhance visual comfort and productivity in workspaces with up to 50,000 hours of illumination.
LUX Linear LED Undercabinet Light Features:

High-quality, bright white LED undercabinet light with integrated controller
Full range dimming for customized light levels
Intelligent touch controller recalls last brightness setting
Slim profile – only ½ in. thick
Attach up to three LUX Linear extension light bars to base light bar
Flicker-free, high-quality LEDs
Bright, efficient LEDs produce 300 lumens
Color temperature: 4000K
5 Watts
Color Rendering Index: 80
Efficiency: 60 lm/W
Input Voltage: 100-240
Color: silver
Bar length: 13" (light with controller) / 12" (extension bar)
50,000 hours of continuous illumination
2 magnetic/screw-in mounting brackets included
6 foot adapter cord included
About Mighty Bright
Behind every LUX LED Light you'll find Mighty Bright, designers and manufacturers of portable LED lights. We have taken our years of LED expertise and applied them to the LUX line to produce the most fashionable and energy-efficient LED lights for home and office on the market. And since LEDs provide thousands of hours of light, each purchase of a LUX Light is earth friendly. Contact Mighty Bright: 800.922.3233 or visit http://www.lux-led-lights.com.