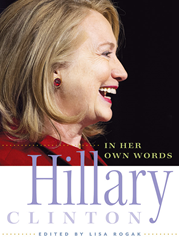 Berkeley, California (PRWEB) March 13, 2014
Hillary Clinton has been making headlines for decades, and with the forthcoming 2016 election, her anticipated presidential run has the public more enthralled than ever before. On March 19, 2014, she will be giving the keynote address at the Association of American Publishers meeting in New York. Just in time for the big speech, Lisa Rogak—editor of the newly released Hillary Clinton in Her Own Words—shares some surprising quotes from the book and offers free copies to five lucky winners.
Here are some of the most interesting and wild things the former Secretary of State has said over the years:
1. "If I want to knock a story off the front page, I just change my hairstyle."—Newsweek, June 1995
2. "Talk about keeping the marriage together . . . One of the serious issues of our marriage is that Bill Clinton does not eat chocolate."—The New York Times, December 1992
3. "When I was a little younger . . . I thought I wanted to be an astronaut and I wrote off to NASA and they wrote back saying, you know, we're not taking girls."—ABC News, June 2003
4. "It would be hard to find anybody who has incurred the wrath of the special interests more than I have."—ABC This Week with George Stephanopoulos, December 2007
5. "If I worried about every time anybody said something nasty about me . . . I would be incapacitated."—Midwest Today, June 1994
6. "You show people what you're willing to fight for when you fight your friends."
—Cabinet and staff retreat at Camp David, January 1993
7. "I do believe in prayer, and I have relied on prayer consistently throughout my life. I like to say that, if I had not been a praying person before I got to the White House, after having been there for just a few days I would've become one." —Democratic Primary Debate, August 2007
8. "I'm a Rorschach test."—Esquire, August 1993
9. "I believe strongly that art should be accessible to everyone, because it has the power to evoke in each of us a deeper understanding of our lives and of the world around us."
—Speech, January 1996
10. "American women don't need lectures from Washington about values. We don't need to hear about an idealized world that was never as righteous or carefree as some would like to think" —Commencement Speech, Wellesley College, 1992
Visit sealpress.com before March 23, 2014, to enter for your chance to win a free copy of Hillary Clinton in Her Own Words. To learn more about editor Lisa Rogak, visit lisarogak.com.
###
About Seal Press
Seal Press was founded in 1976 to provide a forum for women writers and feminist issues. Since then, Seal has published groundbreaking books that represent the diverse voices and interests of women—their lives, literature, and concerns. Seal's authors are radical and original thinkers, professionals with a distinct point of view, gutsy explorers, truth-tellers, and writers who engender laughter, tears, and rage. Seal Press publishes books with the goal of informing women's lives. Based in Berkeley, California, Seal is a member of the Perseus Books Group. To learn more, visit sealpress.com.