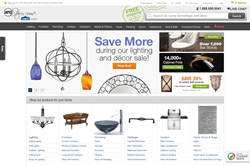 We're very excited about the consolidation of all of our stores into one powerful brand.
Kirkland, WA (PRWEB) March 19, 2014
ATGStores.com, which offers millions of home improvement and home furnishing items, is making it easier for customers to find everything they need for their homes by consolidating its many websites into one online location at ATGStores.com.
"We're very excited about the consolidation of all of our stores into one powerful brand," said President Michelle Newbery. "By doing this, we'll be able to provide a seamless shopping experience to our customers that will better help them find what they need for their next home project."
This enhanced shopping experience is the culmination of a months-long effort by the company's tech, marketing and customer service teams to bring DIYers, homeowners and commercial buyers even closer to having a one-stop marketplace for everything from lighting and furniture to décor and appliances.
The new ATGStores.com website improves the user experience by making it easier for visitors to find what they want, compare prices and learn more about the products needed for any home or outdoor project.
"Consumers and online retail industry experts have long recognized the cutting-edge work of our teams to improve the online customer experience," said Director of Marketing Nick Hupka. "Google has since invited us to join their Trusted Stores program and we've been recognized by StellaService for our upgraded customer service capabilities, and our goal is to use the new platform to improve even further."
ATGStores.com, a member of Lowe's Company since 2011, specializes in home improvement and home furnishing products and has been serving its customers since 1999. The company features more than 3 million products in a host of different categories ranging from lighting and plumbing to furniture and hardware. Click here for more information and a detailed timeline on ATGStores.com.