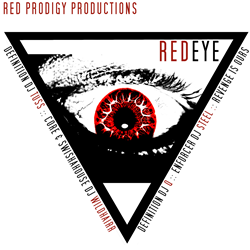 San Antonio, TX (PRWEB) March 13, 2014
Coast 2 Coast Mixtapes announce the release of the "Red Eye" mixtape by Red Prodigy. The 20 track project is currently available for download. The mixtape features appearances from Nate Coop, Willie Trump, Nick Pratt, King Kyle Lee, Willie Trump, Jayworth A Mill, Peter Rose, Nemesiss, Avar The Star, L.I.L. Pooh, and Bobby James.
Red Prodigy is a production house from San Antonio, TX who burst onto the scene in 2009 with their first single "Homegurl" featuring the rapper, Bone. This single became an instant hit charting on Billboard's Hot 100 for nineteen weeks. Beyond charting on Billboard and reaching over nine million radio listeners, "Homegurl" also caught the attention of industry heavyweight "LA" Reid who instantly cut a record deal with Bone.
"Homegurl" is not Red Prodigy's only success story, co-founder Richie Branson has produced songs of a slew of platinum recording artists included The Dream, Bun B, Rick Ross, Charlie Boy, and Slim Thug to name a few. Richie continues to differentiate himself from the competition through his ability to write, produce, and mix a song beginning to end maintaining a high level of quality and creative control. His innate ability to blend Hip Hop and Pop music has become Richie's signature earning him a nomination for "Best Producer" at the San Antonio Awards, a production deal with Adult Swim, and a Billboard charting album entitled "From Guardia with Love". With credits producing for major entertainment brands such as Def Jam, Adult Swim, and Marvel Studios along with years of charting on Billboard; Richie and Red Prodigy have the experience and success within the industry to develop and sustain the careers of the top artists in the game.
"Red Eye" is the first project put out by Red Prodigy since the addition of three new members, Bambu, Rosebudd, and Yung Mavrick. Anticipation for the project built due to the success of the first two hit singles, "1 UP" and "I'm Home". "Red Eye" is a testament to Red Prodigy's staying power within the industry evoking a deep connection between the music and the listener. The project's production allows you to grasp the concept and message of the song with ease. Red Prodigy's credibility within the industry and loyalty of their fans set them apart from the rest and has proven to be the key to their success. Keep up with Red Prodigy on their Twitter page at @RedProdigyMusic.
About Coast 2 Coast Mixtapes
Coast 2 Coast Mixtapes are the most widely distributed mixtapes in the world, with over 100 million downloads/plays generated by over 200 volumes officially hosted by major artists. Coast 2 Coast has a solid reach in the new music industry with a digital magazine, DJ coalition, industry tips blog, yearly convention, and more. Coast 2 Coast Mixtapes represents a unique opportunity for artists of all urban genres, from major to indie. For more information, visit http://www.coast2coastmixtapes.com.