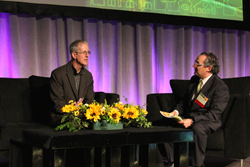 If we don't act with other non-traditional partners to create healthy environments for our children, they will not have the same opportunities to thrive that we had growing up.
LOMA LINDA, CA (PRWEB) March 13, 2014
Loma Linda University School of Public Health (LLUSPH) hosted the annual conference, Healthy People in Healthy Communities March 3-5. The conference theme this year put a spotlight on children's health in the community, bringing together a multidisciplinary group of nearly 300 academic professionals, policy leaders, educators, GIS experts, and child advocates. It was the first ever child-focused public health event at Loma Linda University Health.
"The conference was a great mix of both scientific research and practice-based application that demonstrated success for our children, the next generation," said Donna Gurule, chair of the HPHC scientific committee and the environmental health and geoinformatics sciences department at LLUSPH. "If we don't act with other non-traditional partners to create healthy environments for our children, they will not have the same opportunities to thrive that we had growing up."
The event kicked off with an introductory half-day at Esri in Redlands on Monday, March 3, which was geared toward geoinformatic specialists and those interested in learning how geoinformatics is changing the face of health care and public health.
The main program for the conference took place at Loma Linda University Drayson Center on March 4 and 5, which is when keynote speakers Jeff Speck and Richard Louv gave their presentations.
"Jeff Speck and Richard Louv, were phenomenal," Gurule continued, "and introduced new concepts to us about how our environment impacts our children's health. They also shared how we can change the predicted outcome of disease by getting involved in how our communities are designed and taking our children outside to enjoy something that we as parents have taken for granted – our environment."
Jeff Speck, a city planner and urban designer, presented on Tuesday. Author of "Walkable City: How Downtown Can Save America, One Step at a Time," Speck advocates internationally for smart growth and sustainable design through writing, lectures, public service, and built work.
"There are numerous health related issues linking the design of our communities to the morbidity that we are suffering from," he said during his lecture. Speck cited that there are 12 deaths on the road (drivers and pedestrians) per 100,000 people per year. Also, the "asthma epidemic is three times what it was in the 1990s and scientific proof has traced this back to car emissions." The final issue he cited was obesity. "We have the first generation of Americans that is expected to live shorter lives than their parents, and kids born after the year 2000 are expected to become diabetic."
Speck encourages people to change their lifestyle to walk. "If we want to create more walkers than drivers, we have to create a walk that's better than the drive."
On Wednesday, Richard Louv, author of "The Last Child in the Woods" and "Nature Principle," took to the stage to discuss the gap between children and nature. "There is no denying the benefits of the Internet, however, electronic immersion without a force to balance it creates a hole in the boat, draining our ability to pay attention, think clearly, and be productive and creative," Louv said. "To combat these losses, our society seems to look everywhere but the natural domain for the building of better brains."
Louv also suggested that exposure to nature and the living world can actually enhance intelligence. "Our senses and sensibilities can be improved by spending time in nature," he said, "and the natural environment seems to stimulate our ability to pay attention, think clearly and be more creative."
Louv ended his presentation with a question: "What if for every education dollar we spent on the virtual, we spent another dollar on the real?"
Krystal Gheen from LLUSPH summed up the event in this statement: "At the School of Public Health, we understand that there is so much more to health than health care – where we live, work, learn and play profoundly influences our health. We hope that by bringing awareness to these national issues, we can help lead a diverse community to create opportunities for better health in neighborhoods, homes, schools and workplaces, and to establish healthier lives now, and for generations to come."
PHOTO CAPTION: Keynote speaker, Richard Louv, signs a copy of his book for fans, Donna Gurule and Dr. Sam Soret from LLUSPH, during the Healthy People in Healthy Communities Conference on Wednesday, March 5.
Additional photos available for download here: http://bit.ly/1nOvPXA.