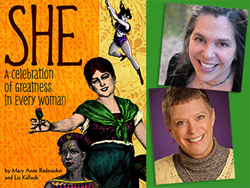 They hit the mark with this very readable, beautifully written and illustrated book. Women of any age should find reading She an uplifting experience. — ForeWord Reviews
(PRWEB) March 13, 2014
AM Northwest interviewed Mary Anne Radmacher and Liz Kalloch on their new collaborative book, SHE: A Celebration of Greatness in Every Woman(Viva Editions 2014). Mary Anne and Liz discuss the inspiration behind their latest release, and why it's so important for women to support each other and work together. SHE is a series of "love letters" to the beautiful qualities that Mary Anne and Liz believe make women special, including leadership, creativity, and determination. These inspirational women will wrap up their Pacific Northwest tour tonight in Portland, OR at New Renaissance Books at 7pm with a reading and book signing where all are welcome.
March 13, 7-8:30pm, New Renaissance Books,1338 NW 23rd Ave, Portland OR
SHE: A Celebration of Every Woman (available as an audiobook)
From the "everywoman" to exemplars such as Hillary Clinton, Madeleine Albright, and Maya Stein, author/ artists Mary Anne Radmacher and Liz Kalloch have gathered fierce and feisty females to empower women on the topics of leadership, friendship, purpose, adventurousness, cooperation, collaboration, risk-taking, resourcefulness, happiness, compassion, and much more. SHE: A celebration of Greatness in Every Woman, pays tribute to all women's everyday inspirational richness. Along with their best advice for our life journey, the contributors portray what it really means to inspire.