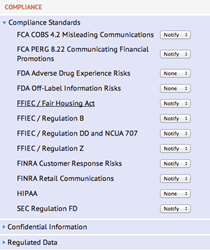 As companies expand their social investments, programs, and infrastructure, their requirements for more sophisticated security and compliance technology increase
San Francisco, CA (PRWEB) March 13, 2014
Nexgate, an innovator in social media brand protection and compliance, today released Deep Social Linguistic Analysis (DSLA), which provides contextual classification technology designed specifically to address increasing regulatory compliance challenges facing organizations engaged in social media.
Available immediately for existing Nexgate customers with multiple patents pending, the new classification technology combines deep content analysis and machine learning with rich contextual information and natural language processing to identify and respond to regulatory requirements and guidelines governing the use of social media for financial services, life sciences, and publicly traded organizations globally. This technology powers first of their kind, pre-built detection policies for FCA, FDA, FINRA, FFIEC, SEC, and more.
Increasing regulatory requirements for the use of social media are challenging the global social media and compliance teams at many large brands. In the recently updated FFIEC guidelines, for example, the Council concluded that the creation of a risk management program "that allows [a financial institution] to identify, measure, monitor, and control the risks related to social media is a cornerstone to compliance. Additionally, the Council highlighted that the program "should be designed with participation from specialists in compliance, technology, information security, legal, human resources, and marketing," and include the following:
➢ A governance structure specifying "clear roles and responsibilities" that creates controls and enables continual assessment of risk in social media use;
➢ Policies and procedures that specify how institutions intend on addressing risks from "online postings, edits, replies, and retention,"
➢ Compliance functions to maintain adherence to "internal policies and all applicable laws and regulations;"
➢ Guidelines for reporting back to the financial institution's board of directors or senior-level management that support recurring evaluation of "whether the social media program is meeting its stated objectives."
"Regulations for social media use are evolving, but many chief marketing officers can't wait for regulatory certainty before engaging customers through social media. To reduce risk, CMOs and legal, risk and compliance professionals should develop a social media risk management and compliance role." French Caldwell, Three Best Practices for Implementing Social Media Compliance, June 28, 2013.
Nexgate's new policies and controls make it easy for any regulated organization to address its compliance requirements for social media. DSLA automatically identifies whether a brand is regulated, then detects regulated content, and checks to ensure it's published under the correct communication channel, per the brand's policy. Among already powerful NLP classification tools, DSLA allows for fast categorization and, combined with Nexgate's machine learning, provides unparalleled accurate classification of compliance violations in social media. If the post, tweet, or other social content violates policy (e.g., is not published over an authorized channel), Nexgate's new DSLA technology will automatically remove the content from the page or wall. Additionally, any policy violations are automatically captured, categorized, and distributed for reporting and stored for legal hold and e-Discovery with leading archiving solutions.
Deep Social Linguistic Analysis is designed to help large brands address complex compliance requirements across their many employee and corporate accounts. It differs from basic keyword, dictionary, and regular expression-based filters in that it understands the non-conformities of social media language in parallel with the ambiguities of regulatory requirements. This increased accuracy reduces risk while also reducing the time, effort, and cost associated with legacy processes and keyword filters. DSLA combines deep content classification with rich contextual information, including the social channel, publishing application, and account profile details, to seamlessly and accurately enforce regulatory compliance in social media beyond the capability of basic keyword filters and regular expressions.
"As companies expand their social investments, programs, and infrastructure, their requirements for more sophisticated security and compliance technology increase," said Devin Redmond, Co-founder and CEO of Nexgate. "This is a logical evolution for a communication channel and parallels what we have seen for email and web infrastructures. With our new Deep Social Linguistic Analysis technology, we are focused on providing this necessary security and compliance control layer to enable safe and productive social communications."
More Information:

For more information on Nexgate, visit nexgate.com.
About Nexgate
Nexgate provides cloud-based brand protection and compliance for enterprise social media accounts. Its patent-pending technology seamlessly integrates with the leading social media platforms and applications to find and audit brand affiliated accounts, control connected applications, detect and remediate compliance risks, archive communications, and detect fraud and account hacking.
Nexgate is based in San Francisco, California, and is used by some of the world's largest financial services, pharmaceutical, Internet security, manufacturing, media, and retail organizations to discover, audit and protect their social infrastructure.