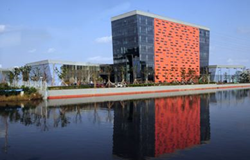 RFL motors and generators simply outperform all other designs
Sydney, Australia (PRWEB) March 24, 2014
Radial Flux Laboratories (RFL) is a Research and Development company focused on the application of its patented technologies in electric motors and generators. RFL motors and generators are proven to achieve 50-75% reductions in size and 25-50% reductions in weight for comparable power* - combined with extremely high efficiency (typically 95% or more). RFL's patented Permanent Magnet technology has been developed over a 5 year period ($4 million R&D investment) in electric motors, wind turbines and generators, and production for international markets is underway at Ningbo, China.
Background
Radial Flux Laboratories has its origins in the field of solar car design and competition. The solar car races began in 1985 and by the mid-1990s were technology showcase events for the latest in solar collection devices, lightweight composite materials and lightweight, high efficiency electric motors. On the basis of this success the company saw the opportunity to transfer the technology to motors and generators which it develops today for use in widespread commercial applications using standard manufacturing techniques.
Benefits
Compared to competitors the RFL design is typically half the size and weight, (lower frame cost), requires no electronic components to achieve the electrical performance (ultimate reliability) and has the highest efficiency (lowest fuel use). According to Executive Chairman, Tony Wright, 'RFL motors and generators simply outperform all other designs'.
Design
The product range has been designed with manufacturing simplicity as the basis to lower cost. This is achieved by optimizing common components and the variable power rating achieved with multiples of a standard magnet segment. The technology plan is to move from generators to electric motors. To facilitate this the design work from inception has been based on motor industry standards for electric motor frame sizes.
Markets
The global markets for generators are $5 billion and electric motors $50 billion. Industrial electric motor consume 65% of all electricity generated in China (25% in the US) and replacement of old motors with new high efficiency models is the future of Co2 reduction.
The Investment Opportunity.
The product range and output capacity of the manufacturing tooling has been limited to date due to available funds being directed to R&D, proof of concept, start-up tooling and limited inventory. With the models now in production and a growing customer base, investment is required to roll out an expanded product range and promote international marketing.
Company Valuation
The projected sales based on the current product range and customers will support a valuation of $30 million US. RFL is seeking an investor to expand the product range and production globally, in addition to taking market share in China's enormous industrial motor sector.
Please contact Tony Wright, Executive Chairman, Radial Flux Laboratories
on +61 2 411 422 682 or email tonyssk@tpg.com.au for more detail.