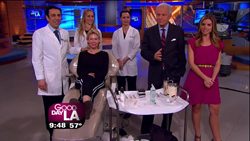 Los Angeles, CA (PRWEB) March 13, 2014
According to a February 27, 2014 CBS News report, the 2013 Cosmetic Plastic Surgery Statistics issued by the American Society of Plastic Surgeons ( ASPS) indicate that the number of neck lifts and buttocks augmentation procedures increased in the United States during the past year. Indeed, collectively plastic surgery procedures increased by 3 percent from 2012 to 2013. A total of more than 13 million plastic surgeries were undertaken in the United States in 2013 according to the ASPS. (see: goo.gl/kEP9uH)
"The overall increase indicates that a growing number of people want to take advantage of these treatments and procedures to enhance their appearances and their overall quality of life," says Dr. Simon Ourian, Medical Director of Epione Beverly Hills.
The CBS News report stated that Botulinum toxin type A (Botox, Dysport) injections, chemical peels, cellulite treatments, and laser hair removal were the most popular minimally invasive cosmetic procedures performed in 2013. Neck lift surgeries increased approximately 6 percent in 2013 over the prior year. Over 55,000 Americans underwent neck lift surgeries during the course of 2013. Approximately 10,000 buttocks enhancement procedures were undertaken in 2013. In this procedure, also known as the Brazilian butt lift, fat is grafted into the buttocks for augmentation purposes. This procedure saw a 15 percent increase from 2012 to 2013.
"We are definitely seeing an increase in the number of patients seeking dermal filler treatments," says Dr. Ourian, "and that is borne out in the ASPS' 2013 statistics. With the introduction of new dermal fillers such as Juvéderm-Voluma and the ongoing advancement of injection techniques, I'm not surprised that more people are opting for non-surgical aesthetic options."
Dr. Ourian has been a pioneer in laser technology and non-invasive aesthetic procedures including Restylane, Juvéderm, Radiesse and Sculptra. These treatments are used for the correction or reversal of a variety of conditions such as acne, acne scars, skin discoloration, wrinkles, stretch marks, varicose veins, cellulite, and others. More information about plastic surgery can be found on Epione's website.