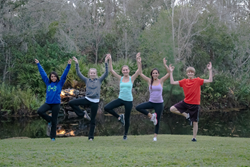 Teens are navigating a cerebral hurricane without a compass.
(PRWEB) March 13, 2014
From the competitive atmosphere of school to stressful schedules, pressure to "fit in" and insecurity about their changing bodies, teenagers today are feeling more stressed than ever. In her book, Secrets of the Teenage Brain, Sheryl Feinstein colorfully puts it, "Teens are navigating a cerebral hurricane without a compass." With the growing popularity of yoga in the United States, there is increasing interest in introducing young people to the physical and mental benefits of this practice.
In addition to balancing strength and flexibility in their still-developing bodies, yoga can help support teens and pre-teens during this time when their brains are still developing as well. In qualitative research conducted in partnership with Dr. Sat Bir Khalsa of the Harvard Medical School, yoga helped teenage students with improved well-being in the areas of sleep, emotion and stress regulation and reduced interest in substance use. Other benefits of yoga include improved concentration, increased self-confidence and positive body image. The practice of yoga has much to offer young people to help them navigate their teenage years in healthier more skillful ways.
With this in mind, The Lotus Pond is offering an exciting week of Yoga Day Camp for teens and pre-teens this summer. Sessions will introduce students to the basics of yoga and show how these practices can support them in their schoolwork, extracurricular activities, and relationships with friends and family. Students will learn yoga postures at their appropriate level, whether they are beginners or experienced in gymnastics or dance. They will learn to use meditation to calm their minds and find ease in stressful situations. Sessions on healthy eating will teach students to observe which foods give them energy and which foods deplete their energy. An introduction to Ayurveda, the sister "health science" of yoga, will teach students to understand their nature and which activities and foods create balance for them.
The Yoga Day Camp will be held in two separate sessions: June 16-19 for teens age 14 to 17 and June 23-26 for pre-teens age 11 to 13. Both weeks are Monday through Thursday, 9:00am-4:00pm each day.
The Yoga Day Camp will be lead by instructors Kaley Gay and Damien Contessa, both yoga teachers registered with Yoga Alliance. As a graduate of University of South Florida with a BA in Communications, Kaley has been involved in public advocacy and lends her time to Tampa's community radio station WMNF, Sweet Water Organic Farm, and the environmental nonprofit Rock the Earth. Damien is completing his doctorate in sociology and teaches at the University of South Florida. He has also taught at Northern Arizona University, Coconino Community College, and has worked as a New York City Park Ranger leading nature camp programs for children and young adults.
Marking its 10th anniversary this year, The Lotus Pond was initially opened by Val Spies in 2004 as The Lotus Room near downtown Tampa. In 2006 Val purchased a 4800 square foot log cabin on 4.5 acres in Tampa to create the campus-like setting of The Lotus Pond. The Lotus Pond has since become a nationally recognized yoga destination offering educational programs in yoga and Ayurveda.
To learn more about The Lotus Pond Yoga Day Camp, call (813) 961-3160, visit http://www.yogalotuspond.com, or request information at info(at)yogalotuspond(dot)com.