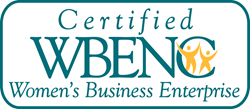 We recognize the commitment to supplier diversity that is embraced by corporations and government agencies today and we can add diversity to your supply chain.
Atlanta, GA (PRWEB) March 13, 2014
SteelBridge Solutions, Inc., a business specializing in HR Performance, Change Management and Organizational Transformation, received national certification as a Women's Business Enterprise by the Greater Women's Business Council (GWBC), a regional certifying partner of the Women's Business Enterprise National Council (WBENC).
WBENC's national standard of certification implemented by the GWBC is a meticulous process including an in-depth review of the business and site inspection. The certification process is designed to confirm the business is at least 51% owned, operated and controlled by a woman or women.
By including women-owned businesses among their vendors, corporations, and government agencies demonstrate their commitment to fostering diversity and the continued development of their supplier/vendor diversity programs.
To learn more about SteelBridge Solutions, please visit http://www.steelbridgesolutions.com.
About SteelBridge Solutions
We enable human resource leaders to directly impact organizational goals and objectives through people focused initiatives. Consultants engage in projects solving a wide range of complex issues facing HR organizations today.
Our firm was founded on HR experience gained and lessons learned from working with organizations of all sizes over the last 20+ years in world class consulting firms such as IBM, Deloitte Consulting and Mercer Human Resources Consulting. We are seasoned professionals with nationally recognized credentials. We focus on client service, transparency and advisory services. At the same time, we offer the speed, efficiency and flexibility normally found in much larger firms. Our mission is to deliver high-quality people-focused business transformation solutions that enable organizations to drive dramatic performance results.
About WBENC
The Women's Business Enterprise National Council is the nation's largest third party certifier of businesses owned and operated by women in the United States. WBENC is a resource for the more than 700 US companies and government agencies that rely on WBENC's certification as an integral part of their supplier diversity programs.