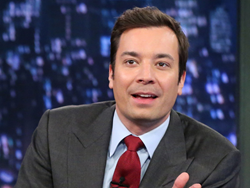 Miami Beach, Florida (PRWEB) March 13, 2014
When it comes to drinking on St. Patrick's Day, singles on Date.com voted Jimmy Fallon, the new The Tonight Show host, and Oscar winning actress Jennifer Lawrence, as the ultimate drinking buddies. In a new poll conducted by online dating site, Date.com, singles ages 18-30 weighed in on which Irish celebrity they'd like to party with on St. Patrick's Day. George Clooney, Lindsay Lohan, Zooey Deschanel and Matthew McConaughey also topped the list of ultimate drinking buddies.
"He was hilarious on Saturday Night Live, and now as the new host of The Tonight Show, Jimmy Fallon's popularity has really skyrocketed. He's cool, down to earth, and the type of guy who would be fun to hang out with. It's no surprise that he was voted as the ultimate drinking buddy," said Meir Strahlberg, CEO of Avalanche, LLC. "Jennifer Lawrence also seems like a fun celebrity who doesn't take herself too seriously. She's beautiful, talented, and has a great sense of humor as well. People want to hang out with the girl who falls on the Oscar red carpet, but picks herself up and laughs about it."
Both men (60%) and women (55%) selected Academy award winner and The Hunger Games star Jennifer Lawrence as their ultimate female Irish celebrity drinking buddy, with Lindsay Lohan garnering 11% of the votes amongst men. The majority of men would also prefer drinking with someone who could also make them laugh, with 63% voting for Jimmy Fallon and 15% voting for Comedy Central's Stephen Colbert. Women, meanwhile, wanted to go on a St. Patrick's Day pub crawl with George Clooney (45%) and new Academy Award winner Matthew McConaughey (25%). While 12% of women also voted to grab a green beer with comedic actress Zooey Deschanel.
The month long poll was conducted from February 12-March 12, 2014 and surveyed thousands of singles ages 18-30. Follows are the complete poll results:
Question: In honor of St. Patrick's Day, which Irish celebrity would be your ultimate drinking buddy?
Men:
Jimmy Fallon – 63%
Stephen Colbert – 15%
George Clooney – 7%
Colin Farrell – 6%
Bono – 5%
Matthew McConaughey – 2%
Ben Affleck – 1%
Ashton Kutcher – 1%
Jennifer Lawrence – 60%
Lindsay Lohan – 11%
Kate Mara – 9%
Megan Fox – 7%
Emma Stone – 6%
Zooey Deschanel – 4%
Emma Roberts – 2%
Sarah Hylands – 1%
Women:
George Clooney – 45%
Matthew McConaughey – 25%
Ben Affleck – 9%
Jimmy Fallon – 7%
Colin Farrell – 7%
Bono – 4%
Ashton Kutcher – 2%
Stephen Colbert – 1%
Jennifer Lawrence – 55%
Zooey Deschanel – 12%
Kate Mara – 10%
Emma Stone – 8%
Megan Fox – 7%
Emma Roberts – 5%
Lindsay Lohan – 2%
Sarah Hylands – 1%
About Avalanche, LLC.
A pioneer of online dating, Avalanche operates a network of more than 22 general and niche dating websites. Its flagship brand, Date.com, was launched on Valentine's Day 1997, and has millions of members from around the world. In the past decade, Avalanche has acquired more than 18 dating sites, including Matchmaker.com, the longest running dating site on the Internet, and Amor.com, the leader in Latin dating. Avalanche also maintains an affiliate portal for all its websites at OnlineDatingCash.com, and recently began offering private label dating opportunities for affiliate and partner brands. A privately owned company, Avalanche is headquartered in Miami Beach, Florida. Additional information about Avalanche's brands of online dating sites is available at http://www.avalanchellc.com