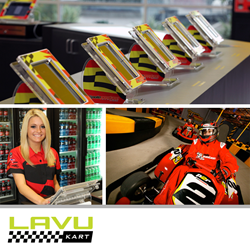 Customers love the convenience of how the system is incorporated into an iPad.
Albuquerque, NM (PRWEB) March 19, 2014
Lavu Kart is a diverse and complex set of companion apps specifically engineered to assist indoor karting businesses, running alongside Lavu iPad POS. Using specialized iPad technology and the chance to create software specific to the needs of indoor karting, Lavu iPad POS created a series of ground-breaking companion applications and integrations. These applications sync directly with external, finely-calibrated tracking and repair hardware systems and displays.
The effort began in 2010 with Pole Position Raceway. One of Lavu Inc.'s first clients, the successful chain provides an engaging, fast, all-electric ride experience for racers that demands a rapid, efficient operation and technology to back it up. A cutting-edge system was needed - one that could communicate and integrate with the advanced timing, reservation, and maintenance components they use. "We have always been a big fan of Apple products because of their incredible stability, design, price point and dependability," said Ken Faught, president of Pole Position Raceway. 'The Lavu Kart app is very intuitive, easy to learn, value-priced, and ties into other high-end state-of-the-art hardware such as MyLaps transponders and decoders."
After years of development and refinement, The Lavu Kart application suite boasts features that fully engage the indoor karting environment and process to turn customers into racers. This includes a registration application for first time visitors, one-touch event scheduling, and instant scoreboard display integration. Lavu Kart Registrar allows new racers to create accounts and sign a liability waiver. Once an account is created, race credits can be purchased through the Lavu iPad POS. The racer is then assigned to a scheduled race through the Lavu Kart Pit app. After the race, they can view their results in real-time on large scoreboards throughout the facility.
Kevin Sallee, General Manager for Pole Position Raceway Murrieta, CA, added, "The customers love the convenience of how the system is incorporated into an iPad. All in all, POSLavu does a great job of making their setup and experience user friendly."
From the business management side, the app suite grants personnel the ability to view lap statistics through the scoreboard displaying kart number, racer names, times, and lap information. A Karting operation can even schedule and document repairs with the Garage application. All of the standard POS management features, like clocking in and out and item sales, are still included. Paired with Lavu iPad POS, the Lavu Kart companion applications are assisting such industry leaders as Pole Position Raceways, and are now released to meet the unique requirements specific to the indoor go karting industry.
About Lavu Inc.
Founded in Albuquerque, NM and operating worldwide, Lavu, Inc. was formed as a solution to common point of sale problems and restaurant industry issues. Lavu iPad POS also serves niche industries including Bars, Food Trucks, Pizza, and even full-scale Chain Restaurants.