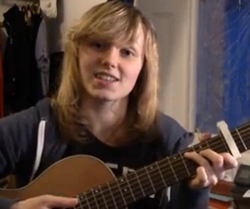 (PRWEB) March 13, 2014
Beth starts off this guitar lesson by playing a little of what she will be teaching. Next she says what chords she will be using in the lesson, which are; C, CM7, Am, G, and F. "To play CM7 you simple play C and take off your first finger", says Beth, "you will also need a Capo for this song as well". She explains that the song consists of two chord patterns, the Verse chord pattern and the Chorus chord pattern. Beth explains the Verse pattern as follows; C, CM7, Am, and G. She explains the strumming pattern as follows; C-down, down, down, down, up then change to CM7-down, up, down, down, up, then repeat that sequence with Am and G. Beth explains the Chorus as follows; chords are F, C, and G. The strumming is all down strokes and the count is F gets 3 beats, C gets one beat and G gets 4 beats. She demonstrates this as F (1-2-3), C (4), G (1-2-3-4). Guitar TAB's are available for this easy acoustic guitar lesson at SongTabs.com.
A Capo, short for capotasto, which is Italian for "head of fret board", is a device used on the neck of a fretted instrument to shorten the playable length and raise the pitch.
Coldplay is a British rock band formed in London in 1996. They have released five albums and have sold over 60 million records world wide. They have won numerous awards including 8 Brit Awards, 5 MTV Music Awards, 4 World Music Awards, 4 Billboard Music Awards, and 7 Grammy Awards.
About SongTabs.com
SongTabs.com is a great online resource for learning to easily play your favorite songs on the guitar. With several great instructors and a constant growing catalog of songs, everyone can learn to play their favorite songs.