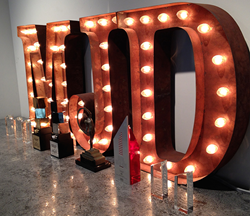 San Diego, CA (PRWEB) March 13, 2014
The American Advertising Federation (AAF) has recognized MJD's work for Legendary Pictures, Oakley, Vail Resorts and M-Go at their annual awards show in San Diego.
The American Advertising Awards is the advertising industry's largest and most representative competition, attracting over 40,000 entries every year in local AAF Club (Ad Club) competitions. The mission of the American Advertising Awards competition is to recognize and reward the creative spirit of excellence in the art of advertising.
MJD won a Gold ADDY for their work with Legendary Pictures on the Godzilla Encounter mobile app, which launched at the 2013 San Diego Comic-Con. The mobile app has also won Gold at the OMMA and W3 awards this year. The agency also won four Silver awards for their work on Oakley's Conquering Kona website, the Oakley Snow website, Vail Resorts new Epic Life digital magazine website, and M-GO's Dinner and a Download website. A Bronze award was given for the M-GO Despicable Me video release website.
"We were thrilled with the recognition from our peers in the digital space at this year's American Advertising Award Gala. The thanks needs to go to the incredible team of creatives, developers and project managers at MJD that worked so hard on these projects. They strove for the best, and these awards reflect that," said Jeremy Duimstra, Co-Founder and Creative Director of MJD.
Conducted annually by the American Advertising Federation (AAF), the local Ad Club phase is the first of a three-tier, national competition. MJD's work will now move onto the second tier, where local ADDY winners compete against winners from other local clubs in one of 15 district competitions. District ADDY winners are then forwarded to the third tier, the national stage of the American Advertising Awards.