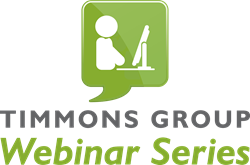 Richmond, VA (PRWEB) March 13, 2014
Timmons Group, a leader in enterprise geospatial products and services, is pleased to announce an upcoming webinar which focuses on Empowering GIS through Enhanced Data Management and Visualization for Fish and Wildlife organizations. Join Lowell Ballard, Director of Geospatial Solutions with Timmons Group on March 27th from 2 p.m. to 3 p.m. EST.
This webinar will focus on examples of how various Fish, Wildlife and Natural Resource organizations leverage GIS to improve their decision-making, outreach and education, reporting and visualization. It will also cover topics including work planning and spatial accomplishment tracking, improved tools for citizen and public engagement as well as hunting and fishing applications, and strategies for improved overall data management. Additionally, the webinar will highlight opportunities for data visualization by utilizing executive reporting dashboards to better convey the story of how work is accomplished on the ground and how that work aligns to priority landscapes.
Timmons Group will also focus on how creating strategic RoadMaps can help your organization be better prepared for the future - both in technology as well as staffing and training. To register for this webinar please visit Timmons Group's website (http://bit.ly/1gkiS5D).
About Timmons Group
Timmons Group is a leading provider of GIS solutions including mobile and web applications and data services. We are focused on developing intuitive, enterprise GIS web applications, highly-usable mobile applications and integrated solutions. Timmons Group supports state, private and federal natural resource organizations including forestry, fish and wildlife, and environmental protection / regulatory disciplines. We also offer strategic planning services to help organizations better understand their current strengths and opportunities, and provide them with a RoadMap for maturing their data management capabilities. . For more information about Timmons Group's geospatial products and services, contact Lowell Ballard at lowell.ballard(at)timmons(dot)com or visit http://www.timmonsgis.com.