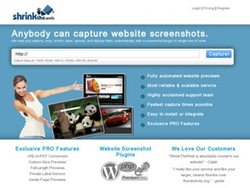 Included with the free account is 1gb of bandwidth, a $10.00 value
Atlanta, GA (PRWEB) March 17, 2014
At every turn, the internet is full of trials or scaled down accounts that offer only enough for a user to get an idea of what the full service is capable of doing. Many of them require up front entry of payment methods and then charge the user when overage is incurred or the trial period has expired. While these methods have become the norm, there are still a few companies out there that stand by the definition of the word free by giving away the service with no strings attached.
When google launched their gmail service promising unlimited storage, they changed the way webmail worked. Before gmail, only people with paid service had the luxury of hoarding millions of email messages. Similarly, getting high quality website screenshots required having a paid account until ShrinkTheWeb launched their freemium service in 2008. In an effort to determine exactly what it means to ShrinkTheWeb, we examined what exactly their non-paying users get in exchange for nothing more than contact information.
On their order page, the pricing plan breaks down a new account as having 5000 new requests and 1GigaByte of bandwidth. At first glance it would seem that a user gets up to 5000 screenshots. After looking closer however, it works out to be significantly more. The key factor that can be easily overlooked is their "fetching" and caching policy. In short, even though there is a limit on the amount of new screenshot captures a user can request in a month, if the image already exists in the ShrinkTheWeb's cache storage, the number of screenshots a user can get is only limited by the amount of bandwidth they have. It certainly is an interesting price model letting users piggyback off of each others requests. The user is only responsible for delivery of the image. Included with that account is 1gb of bandwidth, a $10.00 value that amounts to roughly 105,000 downloads of screenshots sized at 120x90.
When you break it down in this manner it becomes clear exactly what ShrinkTheWeb is giving away. With the ability to download pre-existing screenshots, without any watermarking or other restrictions, users of ShrinkTheWeb own the screenshots they download. This amounts to free users potentially getting over a million screenshots per year at no charge. While this number fluctuates based on the image size and how unique a requested screenshot is, the sheer quantity of screenshots delivered by ShrinkTheWeb is quite remarkable considering its humble beginnings.
From investigating what you get when using a non-paying ShrinkTheWeb account, it brings up the question; what don't you get? After a thorough read through of their documentation, it seems that the only real limitation of a non-paying account in comparison to a paid subscription is the that it does not fully support the use of shared hosting. If an account is using an IP address from a shared server, it will prevent any other non-paying users from using the same IP address. This must be done for security and theft prevention reasons. Another limitation that doesn't really affect the total number of screenshots one can get is the daily limit on new requests which is somewhere around 160 for the non-paying account level.
It was quite creative of the ShrinkTheWeb team to create an environment where web and application designers of all walks can come together to form a community of screenshot grabbers. This community, without even knowing it, all benefit from each others use of the service. Of course as cool as the included service may be, it isn't for everyone. Some users may need more screenshots than are included with the base account, or perhaps they need a custom size, quality, or to capture screenshots of pages other than the a homepage. These users can take advantage of the handful of available PRO Features and upgraded account levels.
About ShrinkTheWeb™
ShrinkTheWeb offers a service to fully automate the capture and delivery of web page screenshots. The company was founded in 2009 and has been a driving force in the emerging automated website screenshot marketplace. ShrinkTheWeb has always held fast to the idea that website screenshots will eventually become a staple of the Internet. They will become a commonplace replacement or enhancement to simply showing a link. They are the natural evolution to linking and referencing on the web.
For more information, please visit http://learn.shrinktheweb.com.