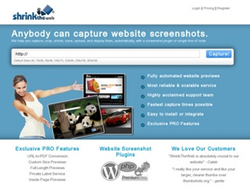 ShrinkTheWeb's WordPress Plugins and Integrations are used by thousands of sitebuilders.
Atlanta, GA (PRWEB) March 18, 2014
It is almost impossible to know exactly which service feature is worth investing company time and money to develop. If however you pay attention to your users and their ever so subtle comments and requests you may find a gem of an idea. ShrinkTheWeb's WordPress Plugins and Integrations are used by thousands of sitebuilders. In an effort to answer the demand of users who need to keep their screenshots as up to date as possible, ShrinkTheWeb developed the Refresh All plugin.
The plugin was designed in consideration of sites like news aggregation and online retail directories that rely on having current news and sales events visible to their visitors. Simply put, the plugin allows the user to schedule how often they want their screenshots to be recaptured. The current available version of the plugin allows users to set all their website screenshots to update daily, weekly, monthly, or quarterly. It is a well-known fact that real-time screenshots are not feasible with current technology costs but this feature is may be the next best thing. Based on a user's need, the task of updating a website screenshot can be fully automated with the new plugin. This integration meets the needs of any WordPress users need to deliver the most current preview of a website at all times. With exception of some media outlets that update throughout the day, sites generally do not change that often but in the event there is a need for an on the fly update, users can also manually run the refresh process.
The Refresh All plugin, that is independent of the other WordPress integrations, is said to maintain a seamless transition between the old screenshots being updated and the new ones. ShrinkTheWeb's documentation states that if local caching is enabled while a new image is being captured, the old image will continue to be displayed to site visitors. This is great news to ShrinkTheWeb screenshot users, since broken or missing images is never a good thing. As of right now, the Refresh All plugin is only available for WordPress users but other services may get their own version.
As with all media, having the most current information is key to staying on top and in the case of website screenshots it is just as relevant considering that they are designed to be an accurate preview of their source. It is clear that this new feature from ShrinkTheWeb was designed with this in mind. In today's online marketplace having the right tools for the job can save, time, money and a ton of patience. it's good to know that companies like ShrinkTheWeb are listening to their users and innovating tools that help them complete their tasks more efficiently.
About ShrinkTheWeb™
ShrinkTheWeb offers a service to fully automate the capture and delivery of web page screenshots. The company was founded in 2009 and has been a driving force in the emerging automated website screenshot marketplace. ShrinkTheWeb has always held fast to the idea that website screenshots will eventually become a staple of the Internet. They will become a commonplace replacement or enhancement to simply showing a link. They are the natural evolution to linking and referencing on the web.
For more information, please visit http://learn.shrinktheweb.com.