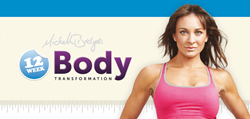 We couldn't be more excited to be supporting the continued success of Michelle Bridges and her team - Bart Thomas, CEO, Anchor.
Sydney, New South Wales (PRWEB) March 20, 2014
Michelle Bridge's 12 Week Body Transformation Program has achieved 300 per cent membership growth year on year, made possible through the web hosting muscle of Anchor.
Celebrity personal trainer Michelle Bridges launched the 12 Week Body Transformation Program three and a half years ago. At the centre of the program is a dedicated website, full of exercise tips, training schedules and meal plans.
The program has been so popular, and membership growth so strong, that the website can see massive fluctuations in visitors throughout each three month program. "As all members start together and finish together, site visitors can leap from almost zero visitors to tens of thousands in a matter of minutes," said Tim Phillips, managing director of the Michelle Bridges 12 Week Body Transformation Program.
Like many websites, 12wbt.com originally lacked the webhosting muscle and flexibility to cope with such a high intensity workout. And when a major website snaps under the strain, as happened to Myer during their recent Boxing Day sale, the brand can lose potential customers and sales along the way.
"The site must withstand its growing user demand and huge spurts in traffic," said Phillips. So, Phillips began looking for a fit, powerful hosting partner to help 12wbt.com achieve what Michelle Bridges does for thousands of participants in the program—lose the flab and gain some muscle.
That was two years ago. Since then, Anchor has managed the hosting services for the 12 Week Body Transformation Program website, working closely with the design team at RedAnt Design.
The Anchor managed hosting team has built a powerful back-end infrastructure, capable of upscaling very quickly in response to sudden and heavy loads without so much as a wobble. "We see Anchor as an essential partner that enables us to smoothly move with this trend and continue our expansion," said Phillips.
"12wbt.com is fast becoming an online retail phenomenon," says Bart Thomas, CEO of Anchor. "We're managing some serious hosting infrastructure from our Sydney and US based Data Centres to help facilitate their rapid growth. Michelle Bridges is working hard to infiltrate the US market and plans to expand into footwear, vitamin supplements, a clothing line and more. We couldn't be more excited to be supporting the continued success of Michelle Bridges and her team."
The Michelle Bridges 12 Week Body Transformation website remains fast, highly stable and easy to use, no matter how much weight it has to carry. The experience meets and exceeds the unforgiving high expectations of today's online users, which is why so many return to sign up again to continue their fitness journeys.
--
About Anchor:
Founded in 2000, Anchor is a global provider of managed hosting services for online retailers, business critical websites and web applications. Anchor's world class team of SysAdmins and DevOps professionals are dedicated to ensuring your website or application is hosted securely, safely and performing at its best - wherever your customers are around the world.