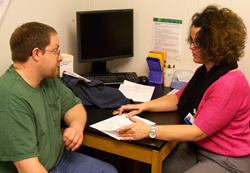 When our most vulnerable citizens have health insurance, it enables them to better manage their health.
Williamsport, PA (PRWEB) March 13, 2014
As the deadline approaches for the Federally Facilitated Marketplace (FFM) open enrollment period for health insurance coverage, Susquehanna Community Health and Dental Center's (SCH&DC) Outreach and Enrollment Coordinator JanAnn Todd diligently works to help individuals and families navigate the health insurance selection process. A certified Marketplace navigator and applications counselor, Todd educates consumers through this phase of healthcare reform and walks qualifying individuals through the enrollment process.
Under the individual mandate of the Patient Protection and Affordable Care Act (PPACA), individuals and families not covered by health insurance (such as private health insurance, Medicare or Medicaid) are required to obtain coverage by January 1, 2014. The open enrollment period which began October 1, 2013, will close March 31, 2014. The next open enrollment begins November 15, 2014 and runs through January 15, 2015.
Although the application process is now more streamlined, Todd admits that it can be overwhelming for someone who is not familiar with health insurance or the electronic process. Todd's expertise provides a convenient resource for the underserved in Lycoming County. "The process typically starts with a telephone conversation leading to an in-office consultation to help individuals figure out whether they are eligible for an advanced premium tax credit, assistance in paying the health insurance premium or for cost-sharing reductions, or both," Todd explained. The income eligibility guidelines determine tax credits and cost-sharing reduction; those whose incomes fall between the range of 100 to 400 percent of the 2013 federal poverty levels, potentially will receive assistance, according to Todd.
"Once the individual has set up their account and their identity is verified, we begin the online application process, which is pretty intuitive once the initial phases are complete," she said. According to Todd, what potentially could cause confusion is an error box that may require additional information from the consumer before proceeding through the process. "My job is to assist throughout the entire process and problem-solve as needed, which could entail contacting the Marketplace directly, or restarting the application process entirely," Todd explained.
For consumers choosing to purchase a qualified health plan, one of the most important benefits of working with Todd is that she is trained to help the applicant determine which level of health insurance is best. Based on more than just cost, this decision should take into consideration what is most important to consumers, whether current healthcare providers are in networks and if medications are covered according to specific formularies and tiers.
"The average person often doesn't realize how to research or even the importance of researching providers and medication coverage by plan when using this new government website. This can be the most critical part to providing assistance, especially for applicants who have complicated health conditions necessitating specific providers and medications," Todd explained. "Sometimes this information results in a second visit before the process is complete. "
Todd's placement at SCH&DC is advantageous for reaching individuals who are underinsured or uninsured. "We see many uninsured patients at our center," said Susquehanna Community Health and Dental Center President and CEO Ellen Krajewski, MPH, CHES. "This is a big step for our citizens who don't have health insurance. When our most vulnerable citizens have health insurance, it enables them to better manage their health. Then, we are one step closer to improving the quality of life for people in our community."
"This is a win-win for everyone involved," Todd said. Her position is federally funded via a Health and Human Services grant through May 2015, so there is no fee for using the service she provides. Since open enrollment began, Todd estimates she's helped an average of 40 people each week. "I still think there are many people in our community who have not enrolled because they have decided to just pay the fine," she said. "Waiting locks them out of the Marketplace until the next enrollment period. What if something unexpected or catastrophic happens?"
Under the PPACA, individuals who do not obtain health insurance will incur a federal tax penalty on their 2014 return of $95 per individual and $47.50 per child (up to $285 or 1 percent of taxable income). The tax penalty increases to $325 per individual in 2015 and $695 in 2016 for individuals who continue to avoid securing health insurance.
According to Todd, designated periods of enrollment shouldn't deter anyone who finds themselves in a situation requiring special enrollment such as the loss of a job, loss of minimum coverage or a change in the household (such as marriage or birth) throughout the year. "Major life changes may constitute eligibility for enrollment," Todd said.
Initially, according to Krajewski, SCH&DC was federally selected and certified to train and employ applications counselors to serve the region. "The training that is offered is truly a community resource," said Krajewski. "This need is so much greater because there really are so few certified applications counselors available."
SCH&DC began as part of Susquehanna Health's Divine Providence Hospital in 2000. The center expanded to its Hepburn Street location, became independent in January 2011 and is governed by a board of directors made up of consumers and community partners such as Susquehanna Health. SCH&DC achieved Federally Qualified Health Center (FQHC) status in June 2012.
For more information, contact SCH&DC at 570-567-5400 or visit online at aimhealthy.org. For information on healthcare reform or the Health Insurance Marketplace, visit healthcare.gov or Pennsylvania's Private Health Insurance Marketplace at pahealthoptions.com.
About Susquehanna Community Health & Dental Center
Susquehanna Community Health & Dental Center's mission is to extend God's healing by providing inclusive, quality primary medical and dental care to all those who need it in the Lycoming County region. Susquehanna Community Health & Dental Center is part of the Lycoming County Health Improvement Coalition, a voluntary collaboration representing various sectors of the community, including religious organizations, schools and higher education, minority groups, municipal and county government, public health, health care, civic and community organizations, the private sector, and social welfare organizations.
About Susquehanna Health
Susquehanna Health is a four-hospital integrated health system including Divine Providence Hospital, Muncy Valley Hospital, Soldiers + Sailors Memorial Hospital and Williamsport Regional Medical Center located in North Central Pennsylvania. Serving patients from an 11-county region, Susquehanna Health is a healthcare leader and has been recognized at the national and state levels for quality of care. Susquehanna Health offers a wide array of services that include cancer care, heart and vascular care/heart surgery, neurosciences including neurosurgery, orthopedics, urology, OB/GYN, gastrointestinal services, behavioral health, physical rehabilitation, home care, long term care, assisted living and paramedic/ambulance services.