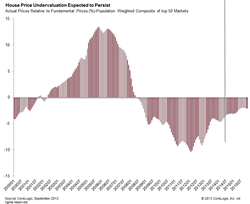 CF Funding has predicted, home prices are expected to rise this year which will reduce the undervaluation of home prices gradually.
Chicago, IL (PRWEB) March 12, 2014
Many rumors have been spreading in recent months in regards to the increase in home prices and interest rates, and the potential of this growth to lead to another bubble in the housing market. CF Funding has discussed these issues in its CF Funding News Feed as new housing data is released, revealing that many experts are back and forth on their predictions. Corelogic recently addressed the housing bubble theories in an article from February 18th titled "Popping the Housing Bubbly Theory." The article explains that the gap between home prices and rental prices should not be used as the only measure of economic stability.
Many experts believe that the pace of growth in rental prices and home prices should be parallel in order to achieve stability. Since home prices are increasing much faster than rental prices, some believe that the bubble already exists. The theory is that "A significant difference in pricing should draw more demand to the less expensive option, therefore driving up pricing and removing the significant difference. This constant reversion to equilibrium between the two substitutes means any significant difference must be due to irrational exuberance on the part of the homeowner or renter."
CF Funding disagrees with this theory, as there are other means of measuring economic stability that must be considered. Mark Fleming, Corelogic's Chief Economist, argues that the relationship between income and home prices can also be considered. If home price growth is faster than income growth, housing becomes unaffordable, and demand declines. This means home price growth, if not parallel with income growth, would either slow or decline to achieve equilibrium.
According to Fleming, this relationship can be used to forecast housing prices. "A composite measure of house prices relative to fundamental prices can be constructed as a population-weighted average of the largest 50 market gaps over time… the undervaluation of home prices relative to incomes may seem like a surprising conclusion from this figure, yet the proof is right there." As shown in the chart provided by Corelogic, home prices are still undervalued and this undervaluation is expected to continue through July 2015 (or longer). As CF Funding has predicted, home prices are expected to rise this year which will reduce the undervaluation of home prices gradually.
Fleming concludes the article with a positive expectation of economic improvement and slight income growth, and reiterates "there is no need to fear a bubble for at least a few years to come, if at all." Consumers looking to purchase a home or refinance should take advantage of today's home prices and low interest rates before they rise later this year. Contact a CF Funding Loan Specialist today to learn more by visiting http://www.cffunding.com or calling (630)328-8900.