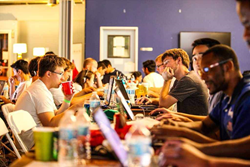 Our business isn't in writing code or developing products - it's about writing history and developing people.
San Francisco, CA (PRWEB) March 13, 2014
AngelHack, the world's largest developer ecosystem, has confirmed its spring hackathon series starting May 3, 2014 in 30 cities throughout the world. The hackathon competition, the world's largest, is expected to attract over 5,000 developers this spring who will work on over 1,500 projects for cash prizes and mentorship opportunities.
This season, AngelHack will introduce the the "Whole Developer" concept, which focuses on soft skills for developers, designers and entrepreneurs, guiding them towards better overall business acumen and an improved lifestyle. To this end, spring events will feature experts on emotional intelligence and well-being as well as yoga and mindfulness instructors,
"The Whole Developer is a hacker that masters their technical and emotional intelligence, focuses on establishing a well-rounded lifestyle and strives for growth," said Sabeen Ali, AngelHack's CEO. "As innovators, we have the ability and responsibility to teach the industry, our employers and our predecessors better, healthier working habits and more well-rounded lifestyles."
Besides earning thousands of dollars in cash prizes, winning teams will get the opportunity to participate in AngelHack's summer HACKcelerator program, a 12 week mentorship program designed to help top teams explore and refine their ideas to ultimately decide if they want to become a startup. Teams will pitch their ideas to investors to get seed funding at the end of the program.
Hackathons, marathon programming sessions where teams of developers work for 24 straight hours to conceptualize, design and develop solutions, are AngelHack's main vehicle for spreading technology and creating opportunities for developers around the world. AngelHack's spring hackathon series is sponsored by Digital Realty, Dolby, Nokia and Microsoft.
"Our business isn't in writing code or developing products - it's about writing history and developing people," said Ali. "We're very excited for the spring competition, which will continue to bring Silicon Valley's opportunities to topflight entrepreneurs all around the world."
About AngelHack:
AngelHack is the premier developer relations platform. A multi-faceted company, AngelHack provides aspiring developers, entrepreneurs, startups, small businesses and Fortune 500 companies the best developer tools and developer outreach programs.
Additionally, AngelHack organizes massive hackathons around the world and has been featured in over 30 publications, including Forbes, TechCrunch, and Wired. In 2013, the company hosted over 70 hackathons with 10,000 attendees.
AngelHack's list of services include:
The World's Largest Hackathon Competition
White Label Hackathons
Technical Education
12 Week Mentorship & Educational Courses for Startups
AngelHack has been in operation since December 2011. Its first hackathon, held at Adobe in San Francisco, was well attended and due to the robust response, the company expanded quickly to Boston in June 2011. By December 2012, AngelHack expanded to 11 cities (San Francisco, Los Angeles, Seattle, Toronto, Santiago Chile, Boston, Washington D.C., New York City, London, Tel Aviv and Paris). Recently, the company has grown to include an international team that that produces the best hack events in the world. AngelHack is headquartered in San Francisco, CA.